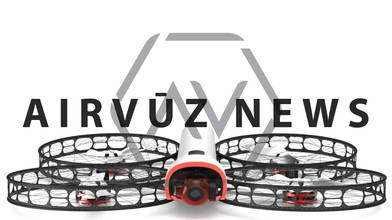 AV NEWS: How CNN Flies Over People
Published 11/09/2017 06:08

The average drone pilot likely won't get permission to fly over crowds of people any time soon. But CNN isn't the average drone pilot. The cable news network is one of just three companies to get a waiver from the FAA to fly over people. Its latest waiver is all about the drone CNN will fly. The Snap Drone, built by Vantage Robotics, is designed to be safe around people.
about 6 years ago
2.0k VŪZ
31

23
Report
The average drone pilot likely won't get permission to fly over crowds of people any time soon. But CNN isn't the average drone pilot. The cable news network is one of just three companies to get a waiver from the Federal Aviation Administration to fly over people. Its latest waiver is all about the drone CNN will fly. The Snap Drone, built by Vantage Robotics, is designed to be safe around people. Key to CNN getting the waiver- the drone's propellers aren't exposed like a typical drone. Tobin Fisher is one of the creators. "It's that combination of the ability to fly near people without risking becoming the news, without compromising video quality. They hadn't been able to find anything else in the marketplace that could do that." ome of the Snap drone's highlights, according to Vantage: It weighs less than a pound and a half, can shoot 4K video, has a battery life of 20 minutes, and comes with several different flight modes. It's also easily transportable, as the body of the drone folds in half and the camera portion snaps on. And while CNN will use the Snap drone for news coverage, the drone is mainly marketed to the general public. "One of the things I want to make sure that we're clear for the certification we got is it establishes that Snap is safe when used responsibly. That's a really important caveat. Snap as a product is intended to be a balance between safety and performance."FLIR and Project Wing are the other two companies to obtain a waiver for drone flights over people. Previously, CNN had a waiver to fly a small tethered drone over people, but only up to about 20 feet high. With CNN's current waiver, the drone is limited to an altitude of 150 feet. CNN has been on the leading edge with regards to drones and journalism, and now it appears the media giant is also setting an example of how to go about flying over people. That's something that the FAA, drone pilots and drone companies can all learn from. "CNN, we kind of see them as our indy car team in the sense that they're going to be our most demanding customer. They're the one pushing us to take on new technologies and probably understand needs in advance of a lot of the broader consumer market. Our hope is there will be a trickle down, the needs that CNN helps makes us aware of and we develop for them, we can then trickle down to our customers and they can take advantage of that as well."