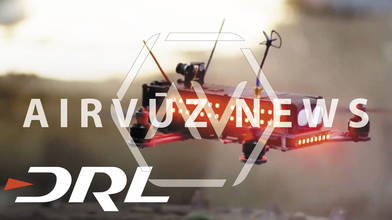 AV News: 2018 DRL World Champion
Updated 05/22/2019 08:44

AirVūz couldn't be more proud of Team AirVūz FPV pilot NurkFPV. Why? Because he's raced his way to the top, now claiming the 2018 DRL Allianz World Championship! NurkFPV has been working towards this goal for 3 years, quitting his full-time job in order to practice 10 hours a day so he could be the best in the world. Hear from NurkFPV the day after his title was announced in this AirVūz News story.
about 3 years ago
633 VŪZ
21

8
Report
FPV Community – there's a new Drone Racing League Champion in town. AirVuz FPV Pilot Paul Nurkkala is the 2018 DRL Allianz World Champion. The finale, which aired Nov 1st on ESPN, was a nail-biter. In the winner take all seventh and final Golden Heat, Nurk, flying a custom-made DRL Racer3 drone, clocked in at 1:05.3 – his best heat of the Championship. "For three years now I've been working at this and in October of 2015 I recorded this one little video where I just was talking to the camera figuring out why I like racing so much. One of the conclusions I made was that – I used to be a programmer and I know I will never be the best programmer or even the best in something in programming, I realized in that moment that I might have a shot at that with drones," Nurk said. "All three years of hard work time spent, money spent, of fixing, of talking to the wife and asking for another chance to go out and fly it all finally paid off in a really, really big way. Obviously I'm excited and pumped and thrilled but there's also this big sense of relief that I finally did it, I finally got there from where I started this journey three years ago and I couldn't be more excited." Nurk spent 10 hours per day practicing for this moment - using his sim, the DRL Simulator, and local warehouses throughout the season to climb to the top. The final run was the longest in DRL history – running just over a mile, the 3D track along the Red Sea included 130-foot dives, inverted archways and cutting turns. Standout locations from DRL's Season 3 included Woodward West BMX and Skateboarding Park in California, the Biosphere and the BMW Welt. Congratulations, Nurk and our three other phenomenal pilots Gab707, JohnnyFPV, and Wild Willy FPV on a fantastic season! CLICK HERE to see Nurk's journey to professional drone racing in his own words. TEAM AIRVŪZ FPV VIDEOS - NurkFPV, Team AirVūz FPV Pilot JohnnyFPV, Team AirVūz FPV Pilot Gab707, Team AirVūz Pilot Wild Willy FPV, Team AirVūz FPV Pilot BEHIND THE GOGGLES EPISODES - Behind the Goggles: Wild Willy FPV Behind the Goggles: nurkfpv Behind the Goggles: Gab707 Behind the Goggles: JohnnyFPV