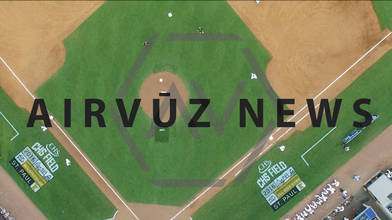 AV News: An All Star Game from an All Star Perspective
almost 5 years ago
618 VŪZ
18

8
Report
Description: AirVūz was at the center of all the action at this year's All Star Game for the American Association of Independent Professional Baseball. See baseball from a new perspective!

---
I'm at CHS Field in St. Paul, Minnesota, for the American Association All-Star Game, where we're bringing drones to baseball. AirVuz is here to capture all the action from above, including the celebrity softball game, the home run derby, and of course, the All-Star Game. I talked to some of the people involved to see what they think of all the drones.
The best players from the American Association of Independent Professional Baseball descended upon St. Paul for some midseason festivities. For the first time in the league's history, all of it was filmed with drones.
The two-day celebration started with the celebrity softball game as the drones flew all over the field. That didn't seem to distract Ben Leber, a former NFL linebacker and starting pitcher for Team Falen.
"I've got various devices, sandpaper, vaseline, things like that. I don't really want you guys to get me in trouble. So as I'm in the windup, go ahead and start filming. But after that, I think you're going to see a lot of high-quality action, hopefully some home runs by our team, and you guys will be right there to see it."
The celebrity softball game was followed by a performance by the Chris Hawkey Band. After that was the home run derby, where some of the biggest hitters in the American Association put on a show for fans -- and for the drone's cameras.
That included infielder Tony Thomas, who plays for the host Saints.
Tyler: "I see you've got a selfie stick. Have you ever thought about getting a drone to take pictures instead? It's easier."
Tony: "Actually, I would love to have a drone right now to fly over. Right now would be ideal to fly over everywhere."
Tyler: "It's called a dronie if you take a selfie with a drone, so you don't need the selfie stick."
Tony: "No more selfie stick? Take the dronie, then it'd be good."
One All-Star in particular seemed excited about the drones. Saints pitcher Mark Hamburger, a former big leaguer, was all for having the drones taking video of the game.
"I love drones. I think they've canceled them at some pro places because they don't want them dropping, which everybody's so sensitive these days. Let the drones fly. Those things catch good cameras. I love the drones. Those things are awesome."
The entire All-Star event was a big hit and drew thousands of fans to beautiful CHS Field in St. Paul. And the Saints, who have been known to have some unique promotions through the years, got a few ideas after seeing the drones.
"It was cool. We were sitting here looking up at it and we were thinking, 'Man, we should do this during the games.' I was like, 'Well, we probably can't get away with it. But it's really cool. I see one of them up there right now. It gives a really cool perspective."

Follow AirVūz News for the latest updates in the drone community!