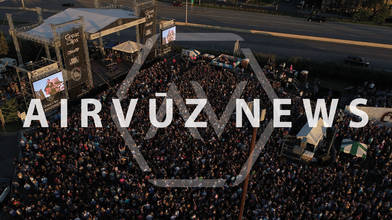 AV News: Basilica Block Party
Published 07/18/2017 07:55

The historic Basilica of Saint Mary sits on the edge of downtown Minneapolis. The Block Party began 22 years ago as a fundraiser to help pay for structural restoration. The two-day festival has 3 stages, food trucks, drink stands, and brings in thousands of people. Local radio station, Cities97, co-sponsors the event and helps bring in big name artists like Gavin DeGraw, Walk the Moon, and Brandi Carlile – this is definitely not your average "church concert."
about 5 years ago
3.4k VŪZ
42

19
Report
Many of us in the drone community hear about events and think "that would be awesome to cover," but never get the chance to do it. Here at AirVūz, we recently wrapped the Basilica Block Party shoot and thought we'd share with you how it was done.

Said to be the America's First Basilica, the historic Basilica of Saint Mary sits on its own city block on the edge of downtown Minneapolis. The Block Party began 22 years ago as a fundraiser to help pay for structural restoration. The two-day festival has 3 stages, a bevy of food trucks and drink stands, and brings in thousands of people. Local radio station, Cities97 co-sponsors the event and helps bring in big name artists like Gavin DeGraw, Walk the Moon, and Brandi Carlile – this is definitely not your average "church concert."

Many of us in the AirVuz offices had been to the BBP in the past, and thought "why not?" try and drone the event.

First steps involved talking to the "right people." That may seem obvious, but it's also a very important part of getting your foot in the door. Most people will either ignore you, or pass you off to someone else who will also ignore you or turn you down.

During our first meeting this winter, we came prepared with our insurance policy, Pilot's Licenses, full proposal, and examples of other smaller, but similar events we had done. Don't have any experience shooting massive concerts? Show a potential partner or client work that you've done in the past that's similar and explain what you'd like to do with their event.

After the initial meeting, we walked thru the event location and found two spots where we could legally take off, fly and land, then worked with the event staff to make sure they would be marked off so no one could access the locations but us.

Leading up to the event we tested our equipment, created a shot sheet, and checked for any Temporary Flight Restrictions – it was a good thing we did, because there was one during part of the event. We worked with the Basilica staff to get permission from the bands to record their image and made sure to get a licensed song to edit to.

During the shoot, we had a message thread set up with our co-pilots, the Minneapolis Police Department, event organizers, and security so they knew exactly when we were taking off and landing.

The event went off without a hitch; all of the aerial, GoPro, and ground camera footage came out perfect and our partners were thrilled with the final package.

Drone video can spook a lot of people, but if all of us in the drone community continue to work hard to fly safely and professionally everyone can benefit from a spectacular, new point of view.

Follow AirVūz News for the latest updates in the drone community!