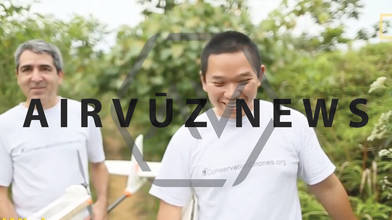 AV News: Conservationists using Drones to Study Primates
about 6 years ago
620 VŪZ
7

3
Report
See how drones are benefiting animal conservationists like Serge Wich and Lian Pin Koh from the group Conservation Drones! You can visit conservationdrones.org for more info.
-------
Here at AirVuz News, we told you about how drones are being used to stop poachers. Now we bring you the story of Conservation Drones, which is using drones to help conservation efforts of wildlife habitats. For more than 20 years, researcher Serge Wich studied orangutans and other primates from the ground level of forests. It wasn't until a meeting in 2011 that Wich had the idea to try to study things from a higher perspective, Wich, an expert in animal behavior, met with fellow researcher Lian Pin Koh, a conservation ecologist, for a cup of coffee five years ago. The product of that meeting was Conservation Drones, a non-profit organization that uses drones for conservation studies around the world. "The ground surveys work very well, but they're very costly, they're very slow, and particularly for orangutans it would be very good if we could fly over forests at low cost and find the nests and then derive where they are and how many of them there are. So then we started to think about drones." At the start, neither man knew much about drones. Koh just started flying remote control planes before the two met. What the two did know- they weren't cheap to buy. Instead, they set out to build their own. "The aim of Conservation Drones was always to explore how you could use this technology to aid conservation and to try to make others aware of the affordability of these systems if you can build them yourselves, if you go through that effort. That's still important, because a lot of organizations can't afford to buy a lot of systems for the off-the- shelf prices." The Conservation Drones seven-person team is spread out throughout the world. Their work spans from Asia to Africa to Australia to Canada. Drone regulations in the U-S have so far kept the group out. Everyone in Conservation Drones has a job outside of the organization. Wich and Koh both work in academia. They've incorporated their research into their teachings.
"I always wanted to be above the trees but I was always under the trees for 20 plus years. Then all of a sudden you have eyes above the forest and you see the landscape and the canopy and the way it's structured. That is fantastic for conservation." Wich hopes drones become more widely used in conservation, especially as consumer-oriented drones become more affordable. Conservation Drones says it is always looking to add to its efforts. "If there are eager pilots out there that want to contribute and live in areas where there are conservation issues, it would be great to see if we could expand our team. That's always something that we're looking for." To find out more about their conservation efforts and to learn how you can help, visit their website at ConservationDrones.org. Follow AirVūz News for the latest updates in the drone community.