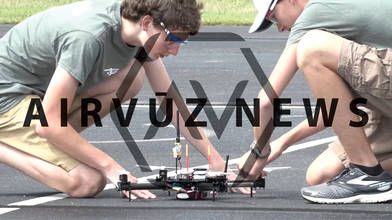 AV News: DJI, AMA Team Up on Drone Safety, Education
over 4 years ago
571 VŪZ
17

6
Report
Description: As the world's largest consumer drone manufacturer, DJI has been launching high-level partnerships at a breakneck pace over the last year. Most recently, they've teaming up with the Academy of Model Aeronautics to develop educational programs - and save lives.

AirVuz spoke with two of the minds behind the project to find out what the buzz is all about.

"It kind of only makes sense that the largest manufacturer of the new technology and the largest organization of recreational model flyers in the United States would join hands."

Bill Pritchett is the director of education for the AMA. That means he's worked side by side to develop the program with DJI's Brandon Montellato, who is the drone company's University Relations manager and project lead for the partnership.

"It was a personal idea, I've been an AMA member for 8 years now, and they're a premiere organization when it comes to RC aircraft and UAVS."

One part of the partnership will be a drone training program for public safety officers.

"I think everyone has a place in their hear for public safety. You probably remember that great video footage of the FLIR camera over the Boston Bomber getting caught laying in the boat. What would you guess that was taken from? A Bell? A Huey? What happens when that goes bad? 30 houses burn? And everyone's worried about a DJI Phantom. Well, come on guys. That's going to dent the hood of a car."

"When it comes to working with Search and Rescue organizations, DJI has been doing a ton of work over the last year and half."

"Actually that's the focus of our audience for our public safety courses. And you bring three or four buddies, and you all get your 107, and you take our ground school, and you go home and after the course life is good because, let's say you're a fireman, you understand the value of this technology."

Another element of the partnership will be an educational program created for grade school and college level students.

"The future operation of drones in the workforce is going to be done by students today, most likely. So the goal is to make sure we're exposing them to the UAV technology they'll likely use when they graduate from high school or college."

"One of the things we believe in at the AMA is that STEM is certainly an important thing, but at the same time, STEM can't take place if you're taking something out of the box, charging it, and you call that STEM. So we developed the UAS4STEM challenge, which is for 6th graders through 12th graders, and it was successful beyond our wildest dreams."

"Ultimately one of the big asks that we get all the time from schools is they really want to have a field they can go out and learn how to fly drones with the class under some supervision. And so the AMA was a great resource to be able to introduce them to some of the clubs, as well as the UAV4STEM program, that the students and teachers can go out and start to get a hands on feel for drones with an experienced pilot."

Students will learn how to build drones and how to create the software that makes them fly. And the program is made to reach a wide variety of learners.

"A lot of the students are responding so well, they're very very excited about drones. And so we've seen teachers come up with some very interesting incentive programs, to complete coursework or projects, and then basically the students get some amount of time to go outside and fly the drone. And it's been very very beneficial, not only for traditional education environments, but we've also seen that a lot with learning impaired institutions, that are working with autistic kids, they are so excited about that technology. So it's very interesting, and honestly we're just scratching the iceberg."

DJI will use the partnership to support the AMA's UAV for STEM Search and Rescue challenge, an educational program similar to one DJI hosts in China.

"And so we are working very closely with the AMA to see how we can integrate the new features and research that we've been doing in the field of search and rescue, as well as different sensor sets, thermal, infrared sensors, and how we can best work with search and rescue, fire, Coast Guard departments to utilize this technology to save lives Keeping people safely out of harm's way, that's really the best case for a drone."

Follow AirVuz News for all the latest updates in the drone community!