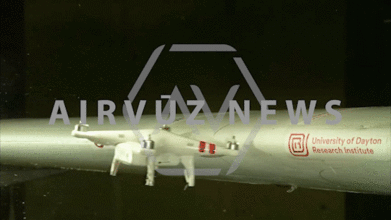 AV News: DJI Demands Withdrawal of Collision Research
over 2 years ago
920 VŪZ
23

8
Report
Description:
The issue of drones flying near airplanes is not a new one in the drone community, but recent research has cause a stir — and has upset the largest consumer drone manufacturer.
The University of Dayton Research Institute made headlines last month when it released THIS video that showed the impact a drone can have when it collides with an airplane's wing. Now drone manufacturer DJI wants the video and corresponding blog post removed.

DJI late last week released a statement demanding the University of Dayton Research Institute take down what DJI claims is a misleading and alarmist video. In the video, a DJI Phantom 2 drone is launched at a stationary airplane wing.

In a letter to the University of Dayton's researchers, DJI's Brendan Schulman argued that "Unbalanced, agenda-driven research does substantial harm to our industry and to our company." He also accused UDRI of misleading the public about the safety of small drones like the Phantom.

DJI says: "UDRI staged its video to create a scenario inconceivable in real life, at a higher speed than the combined maximum speed of the drone and airplane, which is also faster than U.S. Federal Aviation Administration (FAA) testing guidelines."

In response to DJI, the University of Dayton Research Institute release a statement that said: "There are currently no FAA defined collision test parameters for drone strike testing," and added that it would be willing to work with members of the manned and unmanned aviation communities for future testing."

The initial test by UDRI launched the Phantom at the wing of a Mooney M20 airplane to mimic what it said was a collision of the plane traveling 238 miles per hour. Kevin Poorman from UDRI said, "While the quadcopter broke apart, its energy and mass hung together to create significant damage to the wing."

The University of Dayton Research Institute did add text to its original post after DJI demanded the story be taken down, but both the video and blog post remain online.
---
Follow AirVūz News for all the latest updates in the drone community!