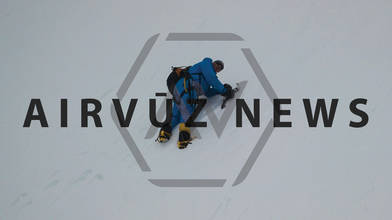 AV News: Drone Saves Stranded Mountain Climber
Published 07/27/2018 07:43

When Rick Allen started to climb the infamous mountain K2, he thought he had all that he would need to get through the journey alive. What he didn't know was that the elements would take hold and he'd be lost for days. Luckily a random drone pilot was out helping search for him Rick, eventually saving his life. Watch the story for more!
almost 4 years ago
1.2k VŪZ
32

14
Report
It goes without saying that mountain climbing is dangerous. But it's also one more place that drones have helped to save lives. Everyone thought Rick Allen was dead. No one had seen or heard from the experienced mountaineer for 36 hours after the 65-year-old separated from his climbing partners to make a solo push up Pakistan's Broad Peak, the 12th-tallest mountain in the world. Nearby, drone pilot Bartek Bargiel of Poland was gearing up to film his brother, Andrzej, who was about to begin his second attempt to be the first person to ski down K2 from its summit. News about Allen spread to their base camp. We talked to Bartek about what happened next. "We thought that we need to help him. We sent some of our members to Broad Peak base camp." That's when a cook at K2's base camp spotted what he thought was an abandoned pack on Broad Peak adjacent to K2. Bartek flew his modified DJI Mavic Pro to investigate. What he found was Allen, who was banged up from a 100-foot fall but still very alive and clinging to the side of the mountain. "Then we start to identify the person that's missing, so I fly the drone to Rick Allen. I took very close photo of him, so I have also coordinates for the position and for altitude." Allen's position on the mountain was marked. "There were some people in Broad Peak camp three...we communicated with them and they started to go after him." But the rescuers didn't know how to use the drone's GPS coordinates. Bartek's only shot from the adjacent base camp was to lead the climbers to one another. "I fly across to Rick Allen once agains so he sees where to go. I fly from him to the people who were searching for him, so they knew the direction. Rick told me after I met him when he got down that he saw the green lights, so he knows somehow that he needs to go in that direction." With the drone's help, the rescuers were able to located Allen and help him down the mountain. He was severely dehydrated and had some frostbite, but was largely unhurt and was able to connect with Bartek before heading home to Scotland. "It's good that he made it, because I think he was close to death. He told me that the drone brought some hope for him. It gives him hope that somebody is looking after him." "He told me that [the drone] is very helpful. He thinks that people should use it for that kind of purpose." Just days after the rescue, Andrzej reached K2's summit and successfully became the first person to ski down the second-tallest mountain in the world, and Bartek's Mavic Pro was there to watch it happen. There was no rescue mission necessary this time, but Bartek says he did use the drone to deliver his brother a GoPro and radio during his ascent. At AirVuz News, I'm Tyler Mason.