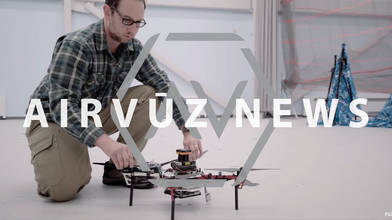 AV News: Drone Tech Update
Published 11/16/2018 03:38

Drone technology is evolving, meaning more ways for consumers, companies, research institutes, and non-profits to use UAVs. Some recent developments in the industry include a search and rescue fleet created by MIT, a 66-ft wingspan solar-powered drone out of China, and an underwater drone that just captured what could be the largest shark nursery ever found off the Irish coast. Watch the full video for more!
about 3 years ago
875 VŪZ
13

5
Report
Drone technology is always expanding and evolving. Here are a few developments in the industry we thought you should know about: Researchers at MIT are back at it, creating a fleet of drones that can autonomously assist in search and rescue missions. Get this, each drone is equipped with laser-range finders. This helps them not only autonomously navigate the terrain, but also map out what they've captured. The team of drones even know when they're done mapping their specific section due to onboard algorithms. At a separate ground station, the maps are merged together for rescuers to monitor. Once the drones locate the missing hiker via object detection tools, they pinpoint the spot on a map for rescuers. In a test run, researchers were able to map out an area roughly 215-square-feet in about 2 to 5 minutes, stitching their maps together in real-time. In other autonomous drone news – a solar-powered drone called the Morning Star was successfully flown in China. The drone is 42 pounds, has a 66-foot wingspan, and is designed to remain in the air for months at a time. Developer Aviation Industry Corporation of China didn't give any details in regard to the test but told Business Insider that the Morning Star has great potential in civilian markets, helping with environmental monitoring, communications and maritime patrols. The drone could also be used as an alternative to satellites and carry out military tasks. Finally, not all drones fly some of them swim. In this video from off the Irish coast, you can see hundreds of deepwater sharks. The SeaRover, the drone that shot the video, is part of a survey by Ireland's Marine Institute. The folks behind the survey say this could be the largest shark nursery ever found off the Irish coast. The thousands of egg cases, known as "mermaid's purses" were found on coral skeletons up to 2,500 feet below the surface. Both the sharks seen in this video, blackmouth catsharks and sailfin roughsharks, are on the International Union for the Conservation of Nature's "red list." Scientists called this a "real eureka moment."