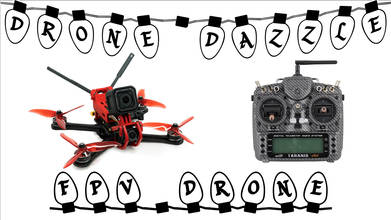 AV News: DroneDazzle - FPV Drone
Published 11/30/2018 10:26

Dronedazzle is your flying and buying guide this holiday season! This episode is all about gear for that person who either wants to start flying FPV or who is already an avid flyer.

DRL Champ NurkFPV several ideas that range from $20 simulators to expensive micro cameras.

He says it's never a bad idea to ask your current pilot what exactly he or she is looking for, since most FPV pilots are very specific about what kind of gear they want.
over 2 years ago
306 VŪZ
15

4
Report
Description: Welcome back to DroneDazzle, your flying, and buying guide this holiday season. This week we're talking to a very familiar face and he's telling us all about the world of FPV. FPV pilots of all skill levels would love to get something for their quad for the holidays. But what's the right gift to give the FPV pilot in your life, or someone who wants to get into FPV flying? Who better to ask than Drone Racing League champion Paul Nurkkala. For anyone looking to get started in the world of FPV, Nurkkala recommends buying them a simulator. Most FPV simulators go for around $20. Be sure to keep in mind other things a pilot might need to use a simulator. "You could either get them the simulator, which is software, so it's like, eh, but you could also get them a radio. You could help them get in the entry of the hobby by supporting them with something like a Taranis. There are some cheaper, smaller options that they can take, connect to the computer and get hours and hours and hours of free practice without breaking anything on the radio that they're going to be using with their real quads later." Some FPV pilots have all of the equipment they currently need. Others can be very particular about making sure they have the specific parts for a build. So instead of buying them parts — which is always an option — Nurkkala had another gift-giving idea for the diehard FPV pilots out there. "So one of the things that I was thinking would be really cool, especially as a racer and as someone who likes to travel, would be like airline gift cards I assume exist. Rather than, 'This is the consumable part that is on your quad,' maybe it's, 'Here's an opportunity to go have an adventure and experience something and be a part of what you love." Companies like GetFPV, Rotor Riot, Horizon Hobby and more all offer gift cards, which would let you give the gift of FPV while letting the pilot choose his or her own gear. There are also options for accessories that could go along with an FPV quad, such as a travel backpack or camera filters for GoPros. If you're buying gifts for a Tiny Whoop pilot, TinyWhoop.com offers everything from T-shirts to racing gates to cases to spare parts to customize a Tiny Whoop. Horizon Hobby also has several versions of its Blade Inductrix for FPV pilots of varying skill levels. So what would Nurk, the reigning DRL champion, hope to get in his stocking this year? "I would love for Santa to bring me more camera gear. I love to make videos about flying, and it doesn't even have to be a drone part. If I got the lens that's on my wish list that I want or something like that, but that's starting to add up the price tags pretty quick. So Santa would have to be very generous." Thanks Tyler. Make sure to tune in next week where we're talking all about enterprise drones with Mike Welsh.