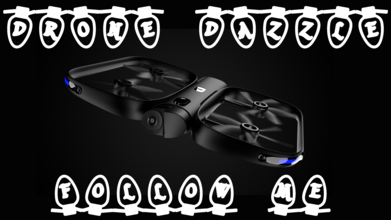 AV News: DroneDazzle - Follow Me
Published 11/06/2018 06:25

It's time to give the gift of the love of flight to your friends and family members. Dronedazzle is our ongoing series for the 2018 Holiday Season. We're talking to the experts, testing out the products, and giving you the best drones on the market! In this episode of Dronedazzle, hear about the best "follow me" drones on the market.
over 2 years ago
275 VŪZ
19

4
Report
Description:
It might be hard to believe, but the holiday season is officially upon us. If you've been thinking about gifting the love of flight to anyone on your list, you'll want to tune in because we're back with our DroneDazzle, where we tell you the best flying machines in your price range and for your needs.
This week we're looking at that special someone who doesn't want to be very hands on with their drone. A snowboarder who wants a good follow-me drone or a family member you know wants to fly but is terrified of running into something. This just may be the best self-flying drone on the market.
Developed by MIT alumni, the Skydio R1 can be controlled through your Apple Watch. That's right, the drone doesn't have a controller, instead it is operated through your smart phone.
Simply tap on the person or thing, like a car, that you want to follow and the Skydio will do the rest – flying 100% autonomously.
The company says it works by a unique blend of AI, computer vision and advanced robotics. The drones 13 onboard cameras enable it to look in every direction at once, allowing it to comprehend what's happening, where it's going, and what happens next.
It does this using a Simultaneous Localization and Mapping feature – meaning it can construct and update maps of its environment while also tracking its subject.
Using AI, the Skydio R1 is able to learn as it goes, assessing situations, planning routes, and remembering what it's learned for future flights.
Infamous YouTube star and drone guru Casey Neistat flew the Skydio R1 through a neighborhood none of his DJI products would have been able to maneuver.
The results?
"Trying to compare this to DJI's autonomous features is like comparing a model T to a Lamborghini. This isn't a small step up in active tracking technology this is a quantum leap"
"Let's talk about the not so great. This thing does the one thing, the following feature, better than any other drone on the market, but that's the only thing it does better than all the other competing drones on the market"
"This is just a ginormous drone for all it does is follow you…It also lacks the cinematic qualities of the DJI drones."
The major downside of the Skydio R1 is its hefty price tag – retailing at just under $2,000.
Check back next week for a new episode of DroneDazzle, where we'll tell you our picks for top Toy Drones.