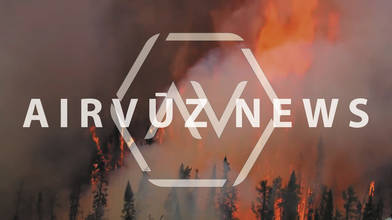 AV News: Drones Helping Disaster Recovery
Published 12/12/2018 04:24

With natural disasters on the rise due to climate change, drones are becoming a more common too to help in recovery.

DJI's Romeo Durscher has been on the ground in California, using drones to help with relief efforts multiple times over the past year.

See how UAVs are being used and learn more about how drone pilots can continue to help in this video.
over 3 years ago
830 VŪZ
21

10
Report
Drones are playing an increasing role in disaster relief efforts. Tyler Mason has a story about the role they play with wildfire recovery, now on the rise due to climate change. In a span of 14 months, three major wildfires ripped through California. The fires left trails of devastation behind, with homes burned down and lives lost. After each of the three fires, Romeo Durscher of DJI has been on the front line of the recovery efforts. Armed with a fleet of drones, Durscher and others have helped document the destruction while providing data to possibly give clues as to how to prevent future fires. Durscher, the Director of Public Safety Integration at DJI, first began this mission after the Tubbs Fire in Santa Rosa last October. Not long after a wildfire ripped through the area, Durscher and others surveyed the damage with drones. Less than 10 months later, the Carr fire consumed over 220,000 acres. And just last month, fires raged out of control in Paradise and surrounding areas. The drones have been flown after all three major events. "The crazy thing is, this is really the third time in 14 months that we've been doing a large wildfire disaster. It's the new norm and that's what's so scary about all of this because obviously something is happening that we're seeing more of these disasters," Durscher said. Durscher has worked closely with fire departments and law enforcement agencies in California after each of the three wildfires. All of the drone missions were conducted by public safety teams. After the latest fire in Paradise, each team was assigned certain areas that they were then tasked with mapping by using DroneDeploy. The goal was to map 17,000 acres of California, which meant the execution of the mission took lots of planning. "Now you have to create a - first of all, a master map. Then individual maps, so that, first of all, all the teams are utilized. But then also, you want to ensure that each map overlaps with the map next to it, so that you have proper coverage," Durscher said. In addition to the 3D mapping using the DJI Phantom 4 Pro, Durscher and the other pilots took many 360-degree panoramic photos as well as videos of the area using the DJI Mavic. The videos could be viewed side-by-side with realtime maps to help identify the areas, as the devastation from the fires destroyed many landmarks. Most of the images and videos were uploaded to the Butte County website, which provides clickable icons overlayed on a map of the area. For residents and rescuers alike, these resources are proving invaluable. "There are multiple agencies and multiple commercial entities, as well as individuals, that have the ability to really benefit from the data. At the end of the day, it's also a historic safekeep of data because we're going through these events. I'm convinced in 20 years, we will look back and say, 'Yes. Remember the days when we used multirotors for something like this? Those guys were crazy,'" Durscher said. The drone teams encountered several obstacles during each of the three missions after the recent wildfires. Smoke from the fires leads to a reduction in visibility. Rogue aircraft from unauthorized pilots can created problems as well, and Durscher says drone mitigation was in place by using DJI's AeroScope platform. Temporary flight restrictions also grounded the pilots when President Trump visited the area. There's also the emotional toll that results from mapping the devastation. While Durscher tried to separate himself from the emotional side of the mission when flying, it's not always that easy. "I was definitely very emotional in Santa Rosa, because that was really the first time. I felt less overwhelmed in Redding, also because the scale was different. When we first arrived in Paradise, I felt numb. I was like completely numb. It kind of worried me, at first, but then I realized it was just ... I had no feelings at all in the beginning because I never expected to see this much destruction. It was just miles after miles after miles, so I was just ... I couldn't process it," Durscher said. The drone teams set up camp in Chico, about 15 miles west of Paradise. While there, Durscher and others encountered residents who lost almost everything but were thankful to be able to see their neighborhoods through the drone's view, "You have people that come up to you and give you a hug or they pay for your meal, like, 'Hey, we lost our homes up there, but we're so thankful you guys are here.' You see the kindness of others and that is also very emotional." As natural disasters continue to rise in frequency and severity, Durscher believes drones will remain a valuable tool in helping assess damage — and, he hopes, to possibly prevent such devastation from happening in the future. "I think the biggest thing is that all of this is still very, very early on. We're exploring a lot of possibilities and we're working with a lot of new ways of doing things. This is a call, also, to the community. It's a call to the software developers and hardware developers. We need to work together. The industry ... This is a big pie and there are so many little pieces to be had, but we need to work together. Solutions need to be developed together," Durscher said. If you're interested in helping out as a volunteer in your area, Durscher recommends getting in contact with your local fire department or search and rescue teams. And keep in mind that if you fly at a disaster scene without authorization, you could be more of a problem than a solution.