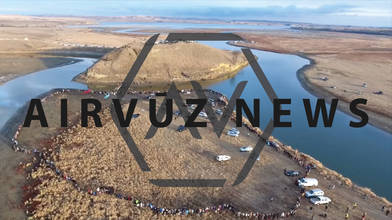 AV News: Drones at the Dakota Access Pipeline Protests
about 5 years ago
592 VŪZ
8

3
Report
A few months ago, AirVūz News told you the story of Dean Deadman Jr. who says his drone was shot down over the Dakota Access Pipeline Protests while he was trying to document the event. While the Army Corps of Engineers has since said the pipeline must be rerouted, protestors have stuck around to make sure the new administration won't change this decision.

"I did not go out there with the intention of droning or creating any content. My only intention was to support the Native American drone operators out there and be of any service that I could." When drone pilot Rhianna Lakin told her friends and fellow pilots she was heading to the Standing Rock Protest Camp, they gave her a new quadcopter to shoot drone video of the protests with. When she arrived she immediately donated the camera drone to fellow pilot and activist Myron Dewey, who's own drone had been confiscated. "I felt like it was the right thing to do. I knew what the chances were, but I wanted to gift that to someone that is doing what I feel is the most amazing drone work that I've seen in my time of being in the industry." Rhianna said around 10 camera drones were illegally shot down while she was there. Since the start of the protests, grassroots activists had been documenting the events with cell phones and encouraging those at home to "check-in" on Facebook to confuse local authorities who they say had been using social media to target protesters, a claim authorities have since denied.

Like Rhianna, camera drone operators have been documenting police clashes with protestors over the Dakota Access Pipeline. The pipeline was slated to be built a half mile away from the Standing Rock Sioux Reservation and would cross under Lake Oahe, the tribes' main source of water. In November, the FAA issued a No Fly Zone over the Standing Rock Protest grounds. However, aerial footage of the protests continues to stream in because Native American drone pilots are claiming sovereignty since they are flying on Tribal Land. Rhianna says other pilots continue to fly despite the restrictions because they believe it's their First Amendment right to document the events that are unfolding. Manned aircraft, such as helicopters, are allowed to fly over the camps. "I find it very disturbing that a manned aircraft can circle over the camp at what I would consider to be a very unsafe altitude because I don't think that manned aircraft has been much over 400 feet. For them to be able to circle around this camp literally day in and day out is in my opinion psychological warfare."

The FAA told one media source the Temporary Flight Restrictions were put in place to ensure the safety of aircraft that are supporting law enforcement efforts and to protect people on the ground. Despite the bitter cold, flight restrictions, and more Rhianna and many other camera drone operators will continue to capture the events at the Standing Rock Sioux Reservation. She believes the footage they capture is vital to the cause. "I don't think I've ever felt more inspired in the drone industry. Watching the indigenous drone pilots out there doing what's right. They are creating a movement and they are showing the truth and they are not backing down because it's important and the world needs to see it."

Follow AirVūz News for the latest updates in the drone community.