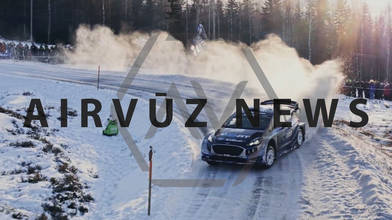 AV News: Droning the FIA World Rally Championship
Updated 07/25/2019 07:54

The World Rally Championship is an internationally recognized series of rally races organized by the FIA (Fédération Internationale de l'Automobile/ International Automobile Federation) that crown a driver, co-driver, and car manufacturer. The series consists of 14 different events, each with several stages of races on challenging courses set on real roads, and the terrain ranges from asphalt, to dirt, or to even snow. Drones capture the races best, explaining the partnership between DJI and the WRC.
about 6 years ago
6.8k VŪZ
31

13
Report
Filming a racing event with a drone isn't anything new. By now, fans of NASCAR, Formula One and MotoGP are pretty used to seeing things from above, but at a distance. There's another ongoing international racing series that's being documented at incredible speeds and frightening proximity. The World Rally Championship (WRC) is an auto racing series recognized by the Fédération Internationale de l'Automobile (FIA) as the highest class of international rallying, which is a special type of motorsport featuring modified street-legal cars that takes place on public roads. For the 2017 season, WRC recruited DJI as a sponsor and aerial service provider, covering races all around the world. "This year I did Argentina, Mexico, Poland, Germany and Portugal … So on one hand, we're kind of a sponsor for the rally but at the same time, we're kind of a service provider as well. Kind of promote our product in like the best way you could possibly do by flying there and showing the product, showing the videos I guess is the best way to kind of promote the DJI technology and our product." Ferdinand Wolf, Creative Director of DJI Studio Europe, pilots the races himself when his busy schedule allows it. He says that filming the event is a bit of a marathon in itself. "It's very important to have a compact and lightweight drone that you can carry around easily because sometimes you have to go to the spots where you need to fly through rough terrain, you have to go through bushes, you have to walk for a long distance. But at the same time you have to have a very reliable and especially agile and fast drone. And with the Inspire 2 we can go up to 100km and have a very high acceleration to keep up with the rally cars, which are insanely fast." Wolf's team went with the Inspire 2 because of the dual-op functionality, it's broadcast compatibility, as well as the longer flight time. He says that timing is everything when it comes to shooting the races. "Filming an event such as WRC racing is very different because basically you don't get a second chance. Once the car passes, like the World Championship, once he goes by, there's no second chance. If you miss him, if you have the wrong timing, or something is not working on your unit, there's no chance to say, 'Hey can you turn around and try that corner another time?' And of course it's physically challenging because you kind of out in the field, sometimes the weather is very harsh. You got rain, you got hard sun, sometimes snow, very hard winds. In Poland we had very high wind speeds. So you have to cope with the elements of nature." Clearly, Mother Nature is no match for the talented team at DJI. Close-proximity angles at high speeds offer a fresh perspective of the sport that fans have never experienced. "The cool thing about using drones in that sport is basically it enables a perspective that was impossible before. I mean, before they had the helicopter and ground cameras. And drones basically fill the gap between the helicopter and ground camera. So we go low and we go fast and we go with the cars. So something a normal ground camera couldn't do and something a helicopter couldn't do as well. Because the helicopter can't fly as low as we fly and the helicopter can't fly between trees or really close to the car. It's challenging but it's very satisfying as well when you see your shots in the highlight videos from Red Bull or WRC." Although these races are a challenging shoot, both physically and mentally, Wolf miraculously hasn't had any major accidents while filming. "We actually wrecked some propellers on the drones because of all the debris, dirt and small stones hit the propellers if we fly close. But we didn't have any crashed yet." Let's hope that the crew's luck continues for the rest of the season. Upcoming stops in the WRC tour include Spain and Australia. Be sure to check out DJI's social channels for aerial coverage of the races.