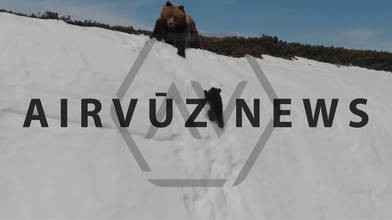 AV News: Filming Wildlife Safely
Published 12/03/2018 09:38

Aerial cinematographers love filming wildlife from above. However there are certain precautions every pilot should follow before taking off so as not to disturb animals.

Biologist Serge Wich says the recent mother bear and cub video out of Russia is a prime example of what not to do when flying near wildlife. Both bears are clearly stressed.

Serge has tips for those who hope to study and film wildlife, but reminds people it's never 100% safe to fly around animals.
about 3 years ago
417 VŪZ
15

5
Report
A recent viral video drew overnight popularity for its "feel good" theme, however a darker side was just as quickly revealed by experts around the world. The story serves as a reminder to always be cautious and aware when flying your drone. "The mother was stressed out. To climb up that steep hill, the steep slope, to get away from the drone and knowing the infant would have difficulties following her on that steep area. At some moment it seems that the camera is coming in or the drone is moving closer and the mother is making a grabbing gesture, then the child goes down again, it's clearly a reaction of something. She's not trying to use that as a way to get her child up, because she's also looking up quite often. She clearly seems to be distressed." - Serge Wich The video Serge is talking was shot by a Russian drone pilot and has been viewed well over a million times. By now, you've probably heard the narrative "if at first you don't succeed, try and try again." You've also probably heard the chorus of activists, biologists, conservationists, and more sounding the alarm bells because the ending could have played out very differently. The video got us thinking, is it ever really safe to film wildlife with drones? Serge Wich is a biologist who flies for ConservationDrones.org – they use the aerial data they collect to find out where animals are and how their habitat is doing, and for anti-poaching purposes. "One of the things that we don't want to do with wildlife is cause stress to them by any method we use to get either data or footage of them." - Serge Wich "Even if you don't see a physical reaction, there might still be a physiological reaction there. Their heart rate goes up, at least in bears, it takes a long time to base level." - Serge Wich Serge says if he doesn't know the species they are studying, he'll bring along a biologist who does to watch the animal. If the animal is indicating stress, Serge and his team land the drone immediately. What about those popular shots flying over dolphins or whales? "I don't know about whales or dolphins specifically, but we do know that marine animals in general are disturbed by manned aviation. When manned aircraft go low over them to survey, they do tend to react." - Serge Wich Drones are smaller and make less noise than manned aircraft, but the same cautionary principles should be in place. When flying over them, fly high and do not disturb them. Speaking of flying high… "It's certainly not a good idea to fly with birds. If they're raptor bird, particularly if it's a fixed-wing, they might see the bird as another raptor. We've seen that ourselves as well when we do surveys, that raptor birds start following drones. It's very influencing their behavior." - Serge Wich "Multi-rotors are noisy, so prey birds and raptors attack them sometimes. There's also a lot of opportunities for collision." - Serge Wich There have been studies that show mothers will stay in the nest longer if there is a drone nearby to protect their young. Serge says it's easy to see when birds are distressed – they start flying up and making alarm calls. You should never fly with them, but if you are flying high above them and see this you should be prepared to land immediately. Scientists and conservationists realize the power of drones when it comes to their low costs, maneuverability, and size. They've successfully used them to study animals and nature. They also believe that videos shot with ground cameras and drones can help people see animals in a new light. Oftentimes, wildlife reserves and conservation groups will hire skilled drone pilots to create moving films in an effort to bring awareness to their plight. These films are shot with professionals who know the animals and are supportive of the producer's efforts. Since not everyone who wants to shoot wildlife has connections to these reserves, Serge think safaris and other tour groups should offer simple guidelines for people to minimize disturbances. Bottom line – it's never safe to fly around wildlife. They have enough stress finding food, shelter and staying away from predators and flying near them distracts them from their basic needs. However, if you must fly near them, Serge says this is the best way to avoid potential stress to them. "Start far away, fly high up and horizontally above them. If you do descend, do it slowly and at an angle and far away and have someone else watch the animals very carefully." - Serge Wich "I think some disturbance sometimes for scientific of filming purposes is ok, but just flying for fun and thereby disturbing birds or other animals – I don't think that's a thing that we should encourage. It's the same thing as when you go into a National Park with a camera, you also try to not disturb animals if you walk around or go in the car. It often happens, but it's something we should avoid as well and drones are just another example of ways we can disturb their habitat." - Serge Wich Operators who misuse drones, like the pilot in the bear video, can sometimes give them a bad rap. However, drones can also be an excellent tool in helping these animals – whether through conservation, anti-poaching, or just general awareness. Always be cautious and use your best judgement when filming animals.