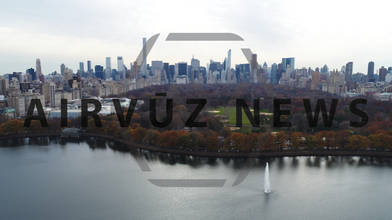 AV News: NYC Drone Film Festival 2017
almost 7 years ago
5.0k VŪZ
9

5
Report
It's almost awards season, but we in the drone community aren't talking about the Oscars or SAG Awards. We're gearing up for the best in aerial cinematography.
The 3rd Annual New York City Drone Film Festival is taking place March 17 through 19th in, where else, the Big Apple. Quoted as being the world's first event exclusively celebrating the art of drone cinematography, AirVūz is a proud sponsor and supporter of this year's Festival. The event not only includes the Film Festival, but aerial cinematography classes, STEM-integrated drone building programs, an FPV racing and freestyle competition, and more.
"I think what Randy has done is pretty incredible, just from the standpoint of being one of the first to call out and establish a film festival for drone photography. No one had really done that, or very few people had really been doing that at the time that at the time that he started the New York City Drone Film Festival."
Jake Watson of Corridor Digital won the film festival in 2015 for 'Superman with a GoPro.'
His submission this year is centered around another science-fiction franchise, and involves some familiar faces in the FPV community.
"Our entry this year is the drone Star Wars video which we shot a little bit earlier this year. We had a chance to collaborate with the Rotor Riot guys and see a first-hand look into the development of racing drones."
Narrative, Showreel, Still Photography, Freestyle FPV, and Dronie are just a few of this year's categories.
"The quality [of entries] has no doubt gotten better and better. So, I guess as the sort of novelty of the first drone photography has worn off its given way to what the art form sort of it is and that's been really cool to see."

Interested in entering? Head here for for official submission guidelines. Submissions are due December 31st.

Follow AirVuz News for all the latest updates in the Drone Community!