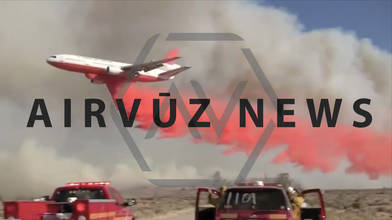 AV News: Reckless Drone Pilots Propel Industry Changes
almost 6 years ago
421 VŪZ
4

0
Report
instances of drone pilots flying in restricted airspace - permanent or temporary - have increased along with the rise of consumer drones. Now drone companies are updating their software to include even temporary restrictions on airspace - see how it will affect you here!
--------------------------
Lately the press is giving a lot of attention to people who fly their drones irresponsibly.
Case in point- a California man who faces misdemeanor charges for flying his drone near a wildfire that was burning right by his house. He said he wanted to see how close the flames were- fire fighters say while his drone was up, they couldn't use tanker planes to hit the fire from the air.
It seems like common sense, but you need to be mindful of flight restrictions. That's why DJI has come up with its new Geospatial Environment Online, or GEO system- a way for your drone's GPS to know where NOT to go.
It will include things like airport location information and real-time access to temporary flight restrictions due to forest fires, major stadium events, VIP travel, and other restrictions. The GEO system also includes prisons, nuclear power plants and other secure areas. Sensitive locations would be categorized as Warning, Authorization, or Restricted Zones.
In Authorization Zones, the aerial system can't be flown without taking additional steps to "unlock" the Zone. Unlocking it requires a DJI user account verified by a credit card, debit card or mobile phone number within the app.
The GEO system is available through an upgrade of the DJI GO app and product firmware, although currently its still in the beta stage.
Follow AirVūz News for the latest updates in the drone community!