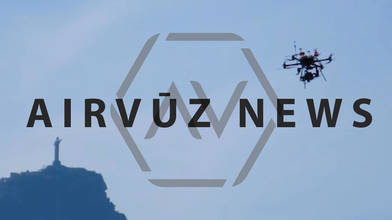 AV News: Rio Olympics and Drones
over 5 years ago
444 VŪZ
5

2
Report
Kendall Mark covers some of the ways that drones are involved with the Olympics going on right now in Rio! Perhaps #lochtegate can be potentially solved by the use of drones? Only time will tell!

----

The Olympics are going on right now in Rio and as you might have guessed, drones are involved!
Things didn't start off well, with reports of at least 3 rouge drones flying at the Opening Ceremonies, one of which can be seen flying above the fireworks display over the MARE - uh - can - AH Stadium in Rio de Janeiro.
This is despite DJI's efforts to make Rio a no drone zone by implementing temporary flight restrictions on their drone's software.
Some drones are fully authorized to fly. Like these drones which work side by side with cable cams to broadcast live rowing events from the Lagoon.
According to reports leading up to the games, The Lagoon was filthy. Judging from this Air Vuz user's video, reports seem accurate. Notice the trash floating in the green water alongside this otherwise picturesque sculpture! There are no reports yet of athletes getting sick from the water.
However, high profile athletes have been robbed at gunpoint! USA swimmer Ryan Lochte and 3 others were allegedly robbed by men in uniform while taxing back to their hotel.
Now, drones made by American company Logos Technologies may be called upon to help in the investigation.
The drones, or aerostat balloons, have a camera affixed to the bottom designed for Wide Area Motion Imagery or WAMI.
Brazil's Ministry of Justice invested in four of the Logos Technologies surveillance systems, which until now have only been used by the US military.
They are able to monitor large areas in real time, with the ability to digitally zoom in on multiple points of interest, as well as archive footage for later playback by operators.
Hopefully what is left of the games will go on without a hitch!

Follow AirVūz News for all the latest updates in the drone community!