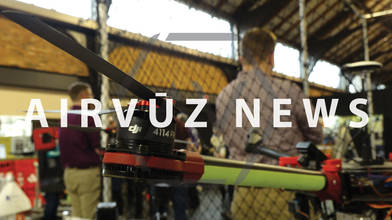 AV News: Robotics Alley Conference & Expo
over 4 years ago
926 VŪZ
22

12
Report
AirVūz is here at Robotics Alley in Minneapolis, MN where some really cool technology is on display, including drones. We talked to some of the folks here at the event about the drones and some of the other cool robots on display.

Lots of impressive technologies were on display at the annual Robotics Alley. Among the highlights were 3D printers, the Beam Pro from Suitable Technologies, and a robotic lawn mower from RoboMow.

One of the convention's main events was March of the Robots, which allowed high school robotics teams to show off their impressive work.

But it wouldn't be an event about futuristic technology without some drones. Minneapolis-based MAV Meetup had a fly cage and a drone simulator, allowing those attending to take to the sky.

"It's a lot of fun. People just love it. Especially the kids, of course. It's like the back of their hand. They can just get it up and fly. But they're still impressed with seeing themselves on camera."

Drones continue to become more advanced every year. And with each year of Robotics Alley, attendees like one high school student who built his own drone, become more and more familiar with the technology.

That included one robotics student from Chanhassen High School, a Minneapolis suburb, who used some of his down time at Robotics Alley to fly around his homemade drone.

"The mini drone, I've just been working on. That's been my most recent project. I've been working with my brother on it. I just got it working just last week. I've been working with my brother on designing it for a few weeks now."

As various forms of robotics continue to shape the way we interact with our world, the same will certainly be true for the drone industry.

"Drones are kind of still in their infancy, and this last year we've seen a lot of technical advances that blows my mind from when I started six years ago. It just makes it so easy right off the shelf to get up and fly."

Follow AirVūz News for the latest updates in the drone community!