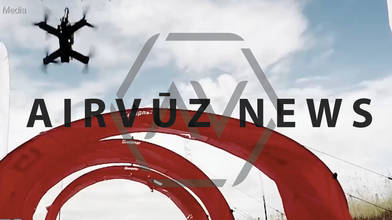 AV News: Scotland's 1st FPV Championship
over 4 years ago
725 VŪZ
12

6
Report
Description: Scotland recently held its first FPV Championship, and it wouldn't have been possible without a grass roots community called FPV Scotland.

Drone shop owner, Allan Sneddon is well connected in Scotland's growing drone community. He played a big role in organizing the race.

"We just put it out there saying you know we're going to make it happen, is everyone going to come? And everyone, everyone came!" -Allan Sneddon

But it didn't really come together until just days before the event.

"Literally the stuff for the event arrived 2 days before, the whole event was literally organized by the skin of your teeth last minute." - Allan Sneddon

Sneddon has been involved with RC toys for 10 years and has never seen interest in RC drones grow so fast.

"As we pushed the event and got LA media on board we got some sponsors, you know the community embraced it. And it quickly became from a pipe dream, a non starter before that to a event that was really going to happen it was really exciting and it was a big relief that we pulled it off." - Allan Sneddon

Video production company, LA Media, got involved to create a video that would introduce FPV racing to an audience that is completely unfamiliar with it.

"One of the big challenges that anybody who films FPV and this includes Skyy, and ESPN, who are about to launch their drone racing league, is… How do you cover it? It's a really challenging thing to look at and create a product which a viewer who knows nothing about FPV can actually understand the narrative of a race.
Where are they? Who's in the lead? What's the drama moments? Things like
that." - Justin Adams

LA Media brought a full production team to cover the race which was held in Dundee, just north of Edinburgh. The race was open to all levels of FPV pilots.

"It's just a fantastic sport. It's just an adrenaline rush, and if you do crash then you're not hurting yourself." - Patrick McIntyre

And after 3 rounds of intense racing, Keiran Black, who has only been flying for 4 months, was crowned the champion.

"I'm not really one for showing emotions but it was really exciting, didn't actually think I'd won it." - Keiran Black

The top 6 pilots head to Ibiza, Spain, for the Euro Championship. If you would like to help Team Scotland get there, you can make a donation on their Go Fund Me page. www.gofundme.com/2djp228c

As for next year's Scottish Finals, you can count on all these guys being back, but with a bunch more competition!

"Next year is just going to be bigger, harder, faster, you know it's growing fast you know people every day joining FPV Scotland." - Allan Sneddon

Follow AirVūz News for all the latest updates in the drone community!