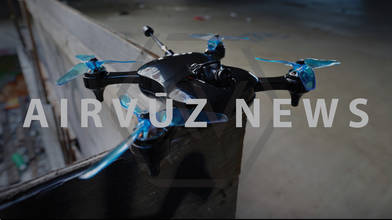 AV News: Teal Drones
over 4 years ago
1.6k VŪZ
19

8
Report
The Teal Sport Racer quad ships today! Kendall Mark got the lowdown from creator and Teal CEO George Matus on not only the new racing/freestyle frame, but also the Flagship Teal drone and the Endurance prototype. See what premiere freestyle pilot Chad Nowak from Rotor Riot thinks of how the new drone handles as well.

Here is a link to the brand new TEAL Sport!

The music featured in this AirVūz News story is from an artist called Home, you can find some of his work here.
---------
If you're looking to buy a drone, you want something with a nice camera... But maybe you're a new flyer so you want something that's not going to go too far… Or you want something really fast like an FPV drone… Maybe something compact that you can put in your backpack…Well until recently you had to buy multiple drones to get all those functions…That is until this… meet the Teal drone, its doing all of those things and more and hoping to change the way our world sees drones!

Wishlist:
- racing
- Takes photos and videos
- Ability for follow me mode, racing, and gaming
- Fully modular so you can bash it around
- Ability to fly in demanding environment
- Supercomputer on the inside
* NVIDIA (Jetson) TX1

Billed as the "Swiss Army Knife "of drones, the flagship TEAL satisfies Designer George Matus's challenging Wish List. It incorporates attributes for many different use cases by combining durability, speed, and intelligence – all made possible by the onboard supercomputer. *
We caught up with George Matus and toured TEAL's brand new headquarters.

K - "The Big boss office! Let's Check this out!"
G – It's still a big mess right now but we'll have to organize here soon.
"I feel like it's a very organized mess right now…"
G - "I try to be, yeah."


G – "One of the last ones that I built, ah, about 2.5 – 3 years ago now; You know, I wanted to build a quadcopter that had a computer on it. Basically build a computing platform to see what would be possible if drones could be intelligent. And if they could become a little bit more aware of their surroundings and be able to perform different tasks onboard, so this was the first essentially scratch build of what Teal is today, with the really small computer chips -"
K – "I love the little Intel inside."
G - "Exactly! And since then – I mean, That's sort of when I had my 'AH HA' moment with Teal is around the time when I built this, and when I had my sort of wish list of everything I'd want in a drone. With the actual supercomputer we have built in to the final version of Teal, we can do crazy things like Artificial Intelligence and Deep Learning all within the drone.
K – "I love this! I love this little comparison"


George - "This is about a year's worth of iterations and prototyping - I'm pretty happy about where we got."
K – "Yeah I'm holding the beginning of Teal in my hand right now; this little baby."

The Teal has gone through many iterations, but George has always had a clear vision of what he wanted.
George:
"So the idea was to have a drone that isn't just a flying camera – it's more like the smart phone of drones so it can have an app store built around it – it can do a lot more than just take photos and videos. And to get there, part of it is having that computing platform onboard so that the drone can become more intelligent and perform a lot of different operations onboard.
Kendall VO: Show Applications b-roll – soccer offsides, refugees, etc.
With the AI capabilities of the Nvidia TX1 supercomputer, the applications for Teal are virtually endless. Its ability to recognize people and objects means you can do everything from resolve an offside debate in soccer – to help humanitarian efforts in a refugee situation for example. You can even play augmented reality style games – or just hook it up to your TV to watch Netflix! But that's just the beginning…
Endurance Show and Tell – George Talks
"This one – a testament to the modularity – we prototyped some longer arms, different power system, and this one is our Endurance version. So where as the standard version flies between 7 and 15 minutes depending on your configuration, this one fly up to 30 to 40.
Kendall - "Wow, 30 to 40 minutes, really!"
"Yeah exactly so depending on the person or the use case they can just buy the setup that works for them and customize it really quick."

That's right, the TEAL is so customizable that there are multiple versions. The first model to be released is the racing quad, which thanks to its detachable arms, will be easy to repair if you crash it…
George talks:
"The flagship model has a supercomputer, the 4K camera, all the advanced features, great for beginners all the way up to developers and hobbyists and people who want to push the limits…And then we've got the dedicated racing quad, which is just for racing and freestyle and FPV.
So this one we're actually going to start shipping first, and then flagship following late summer."

But how does it fly? George had Rotor Riots' Chad Nowak (FinalGlideAUS) on hand to make sure it's good to go!

Chad – "Ah, First couple flights – ah, stock peds - only fiddled with the Reds a little bit – and pretty happy, I mean, it diddn;'t really show any bad signs of anything. Ah, which is always a good sign, so if something is flying pretty good on stock peds then you know you can only improve it. And it flys really nice – its nicely balanced on roll and pitch, and this is the freestyle frame I'm flying, um it's a little bit lacking on yaw authority but I think I can get that up there a little bit more, just a bit of fun – ah, getting out there and its something - You know if you land and if they say do you want another battery and you say yes then you know its gotta be something pretty good."
"I think companies like TEAL have got a future, not specifically because of the product in question that we are looking at here, it's because it's a group of passionate- passionate - individuals that - that want to make cool products and they want to improve them. Ah, So any kind of, ah, group that wants to get together like that is going to succeed in some way shape or form, re- regardless of whatever you're looking at at the time, you know that they they they're interested in making something cool.
Teal's Sport racing drone ships today and the flagship is due out this fall.