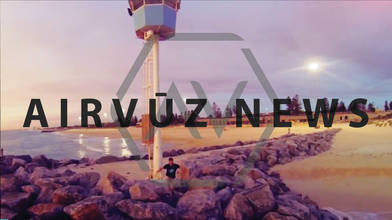 AV News: The Ultimate Drone Save
over 6 years ago
3.6k VŪZ
21

15
Report
Ryan Chatfield is a talented cinematographer who runs his own business, but what the Australian is best known for is the epic save of his Phantom 2 from certain death at sea! You may have seen his viral video, which the world has practically unanimously anointed the best drone save to date, but hear the backstory and all the details straight form Mr. Chatfield himself in this AV News report from reporter Tyler Mason! Ryan's profile right here on AirVuz is "RCI," so be sure to follow him for more Aerial action from Down Under!
------------

This month's YourVuz Episode, dedicated to Drone Fails, got us thinking…what if we talked to the guy behind one of the most viral drone fails ever? What our reporters found out, was some drone fails can turn into big bucks. What began as a way to blow off steam eventually resulted in 15 minutes of fame for Australian drone pilot Ryan Chatfield.Chatfield lost his job as a media consultant and decided to take his new drone out for a spin before heading home that day. As he attempted to capture the sunset at a local beach, he noticed a couple taking pictures and tried to get them in the frame with his Phantom 2 drone. "I looked at the battery indicator on the back of it and it had two little bars there. I thought, 'That'll be heaps. I'll get there and back with that.' I flew it out there, made the shot, and then turned the drone around, and that's when it went into the failsafe mode."
What happened next is what has since become a viral video. Chatfield's drone began slowly descending towards the water. Way off in the distance on the video, Chatfield can barely be spotted on the screen.
Having recently trained for the New York City marathon, Chatfield decided to run after his drone as its elevation kept dropping – even though he was still a good distance away from it.
"I thought I've got to at least have a crack at it. There's a dude from Poland or Russia where he did that save where he waded out into the water. That flashed into my head. I thought, 'Maybe I can save it.'"
As his drone came closer to the ocean, Chatfield arrived just in time. He had to hop over rocks and get into the water. But given the conditions, that was easier said than done.
"I clamored down, and you don't see it but I actually slipped, because at the time I forgot about wet rocks. I folded up like a deck chair. I had my arms and my legs up. I could see the drone in between my legs and it was coming down. I thought, 'All this effort and I'm not going to make it.' I managed to clamor out and I just got it."
With drone in hand, Chatfield was able to get back onto shore with footage that soon became viral. But it wasn't until after he sent it to his friends that the video took off.
A friend's girlfriend posted the video on the website of a popular radio station where she worked. Soon, he learned what it meant to go viral.
"She shared it, and it just went, bang. Overnight it had 60,000 views. And then the next morning, when I wake up, I had like 300 emails from all these viral ad agencies saying, 'We want your video, we want your video.'"
He now has his own video company, Ryan Chatfield Images, where he does wedding photography and corporate videos. Chatfield also uses his drone for business, although it's safe to say he may not have another video as popular as his great catch.
"People do book me based on the fact that I can provide drone footage, that's for sure. Whether it's wedding cinema or corporate video, having the ability to fly the drone is definitely one of the plusses for my company that wins me work. I love it, man. If I could just fly drones, then that'd be me. I'd be happy. But there's all the other stuff you've got to do as well."

Follow AirVūz News for the latest updates in the drone community.