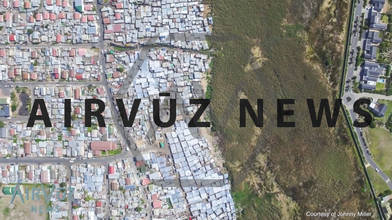 AV News: Unequal Scenes
almost 6 years ago
3.2k VŪZ
10

2
Report
Johnny Miller bought a drone when he moved to South Africa, intending to showcase the beauty of Cape Town. The project has since been named "Unequal Scenes."

---------
When Johnny Miller flew a drone for the first time in February of 2016, he couldn't have anticipated what it would eventually lead to.
Miller, originally from Seattle, moved to Cape Town, South Africa, in 2011 to study anthropology. He got a drone, intending to showcase the beauty of Cape Town. A friend gave Miller the idea to use the drone to highlight the segregation of the area. In an interview with AirVuz News, Miller recalled the first time he saw his city from the sky.
"I flew up, and watching through my phone, it was like an epiphany. I just thought, 'Wow, I've got something that I've never seen before, and it's pretty powerful.'"
The project has since been named "Unequal Scenes." The images from the drone -- a DJI Inspire -- showed the stark contrast of neighborhoods segregated during South Africa's Apartheid, which ended in 1994. On his website, unequalscenes.com, Miller includes a bit of history and description about each picture, but the powerful images truly speak for themselves.
"Really, what worked, or what became powerful, was to actually fly above everyone 200-300 meters and almost remove and semblance of humanity. You can't actually see anyone in the photos, even. It's almost a pattern or an urban planning problem. I think that objectivity helped in the South African case remove the bias that people have from seeing a white face or a black face or the traditional sorts of images of poverty that maybe people are too accustomed to at this point."
While reactions to the photos have mostly been positive, there have been some critics. They ask why Miller singled out Cape Town in particular and South Africa more generally when many other cities throughout the world have similar divisions.
Miller said he chose Cape Town to begin the project simply because that's where he lives.
He hopes to do the same thing in other countries.
"This isn't a South African only story. There's unique characteristics of the story because of Apartheid. But obviously Brazil, America, Europe, places like that, the refugee crisis in Europe, there's horrible inequality all over the world."
Miller's images earned him worldwide attention. He's been invited to speak at Drontech Europe in the United Kingdom next May, and numerous media outlets have reached out for interviews.
Miller hopes to use these images to promote positive change in a city and country that is still feeling the effects of Apartheid, more than 20 years later. He hopes showcasing the segregation via drone images can help spark conversation for change.
"The ability to influence a narrative, wherever you are in the world, is only limited by your imagination. I had an idea, I went for it, I flew the drone, and it's created such a firestorm of a narrative of a conversation -- specifically in this country -- that I believe is going to lead to maybe not solutions but to conversations that could potentially affect solutions for the problems that comprise inequalities."
Follow AirVuz News for the latest updates in the drone community!