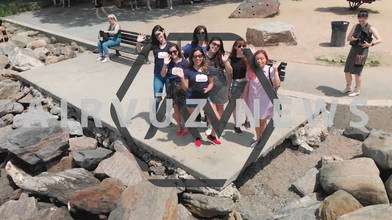 AV News: Women Who Drone
Published 10/24/2018 04:16

While drones continue to grow in popularity, the number of women flying them stays relatively the same - a disappointing less than 5 percent. One woman is determined to increase that number by showing ladies and girls the love of flight. Find out more about Elena Buenrostro and the ladies behind Women Who Drone in this AirVūz News story.
over 2 years ago
767 VŪZ
24

6
Report
Description: A major goal of the recent FAA Reauthorization Act was to help integrate drones more quickly into our society. As that momentum picks up traction, so does the conversation of women in the industry – or rather, the lack thereof. Why should you care? Why is it important? "I think it's important because it's a growing industry and I don't think we should be left out of it. I don't know those numbers off the top of my head as far as the number of women working in the drone industry, but I know for piloting it's less than 5%." Elena Buenrostro is determined to increase that number. She is the founder and CEO of Women Who Drone, an online community of current and aspiring female drone pilots. Their mission is simple - to help close the gender gap in the UAV industry by teaching women and girls how to fly. "I think it's important because it's a great field and I feel like a lot of women are being left behind because girls are not seeing that inspiration and they're not seeing those role models that are doing this job, or continuing the pattern, women aren't necessarily entering these jobs or thinking about going into these jobs because they only see men doing it. To enter the drone industry doesn't necessarily have to be flying. While we focus a lot on those workshops, it could very well be in marketing, it could be in writing, it could be just working for a drone company. I think it's important to shift that by getting more women and girls involved and creating those role models." Elena's love affair with drones started 2 years ago on a trip to the Great Wall of China. She's been a photographer and cinematographer for a decade and knew she wanted to capture the trip, so started doing some digging. Shortly thereafter Elena was flying a Mavic Pro and taking her Part 107 Certification. That's when she started noticing how few women there were in the industry. "I was just chatting with one of my friends, we were on our way to fly our drones at a rooftop BBQ and we were just chatting about the lack of community in the drone industry, we're surrounded by all of these men. So we were like, 'why don't we start something?' Just start a community. Even if it's just on Instagram where women connect with other women and on that day we came up with women who drone. So we looked it up, found the domain – it was available – and started off on all of our social channels with the hashtag women who drone. No one was using it a year ago, now we have over 10,000 tags on it." That concept blossomed into a team of 44 Brand Ambassadors in 23 countries, a partnership with Getty Images, workshops, classes, and more. Now, Elena and her fellow founding members Heather Shevlin and Laura Chukanov are looking to expand their reach through a crowdfunding campaign. The hope is to raise $50,000 so the team can expand their outreach and impact by holding workshops around the country. "People inspire people, and so it goes the same with women inspire women to do and try new things. I've taught many women who have never even thought about picking up a drone and after our one hour lesson they were hooked like were on their way to go and buy their first drone." Getting involved is as simple as checking out the website. "Join our community, watch our videos that we are featuring, read our articles about women that are already making an impact and drones are making an impact in their lives" To find out more about Women Who Drone or to donate head to iFundWomen.com or CLICK HERE!