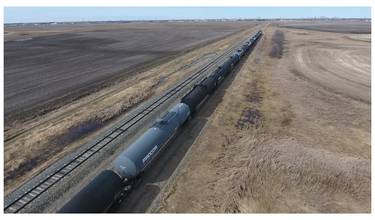 Abandoned Rail Cars
over 4 years ago
457 VŪZ
13

9
Report
Oil tanker cars stored on a spur line on a Canadian Pacific railway. Shot with DJI Phantom 4 using DJI Go 4.0 app on Android. 4K/30 fps.

Music:

Free Background Music producer THENOIZEKILL3R - with superb EDM & Dance "A Shine of Hope".

https://soundcloud.com/freebmusic/thenoizekill3r-a-shine-of-hope-free-background-music

Website - www.freebackgroundmusic.co.uk
YouTube - goo.gl/fFI0z8
SoundCloud - @freebmusic
Facebook - goo.gl/2otgOU
Twitter - twitter.com/FreeBMusic
Google+ - goo.gl/TybZuK

THENOIZEKILL3R

► SoundCloud - @thenoizekill3r
► YouTube - goo.gl/fOjgsQ

Free Background Music is a record label which is based on providing FREE BACKGROUND MUSIC with Creative Commons License and music without Copyright for presentation and video creators on YouTube.