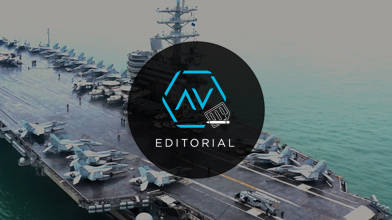 Aerial Footage of the USS Reagan Navy Ship
Published 05/22/2019 06:26

On a rainy, overcast day, drone pilot caldina3188 flew his DJI Mavic 2 Pro over and around the USS Ronald Reagan (CVN-76) while it was stationed near Hong Kong. The aerial footage shows the ship's grandeur at over 1,000 feet long. It is the flagship of Carrier Strike Group Five, the only carrier strike group home-ported at Yokosuka, Japan, as part of the United States Seventh Fleet.

The ship was christened by Mrs. Nancy Reagan on March 4, 2001. It has been in service since its commissioning ceremony at Norfolk Naval Station on July 12, 2003. The ship is powered by two Westinghouse A4W nuclear reactors, four steam turbines, and four shafts.

As the drone flies around the ship, viewers are given an unprecedented look at its carrying capacity and operations. The ship's company is made up of 3,532 individuals with 2,480 air wing. To follow along on the USS Ronald Reagan's missions click the links below.
almost 2 years ago
348 VŪZ
18

4
Report