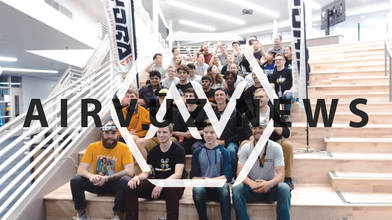 AirVūz News: High School Drone Racing
Published 05/23/2019 04:29

Many high schools have implemented the building of drones into their curriculum. Now two high schools in Minnesota have taken it one step further: by adding drone racing into the equation. This past weekend, St. Louis Park and Apple Valley High Schools in the Twin Cities area of Minneapolis competed in the state's first-ever high school drone race. The students learned how to build Tiny Whoop drones during the school year, and it culminated with a race between the two schools. Hosted by drone racing entertainment startup Hydra FPV, the race included a course designed by the students themselves.

"It's hard to say that it's teaching, because the kids are just so into it that they go crazy with it. They come in before school, they stay after school. It's been a great experience."

"I'm not really in the class. I just walked in and they were talking about, 'Oh, we're going to fly drones.' I was like, 'Oh that's kind of cool! I wonder if I can do it.' … I practiced as much as I can to get on the team."

Helping coach the students from each school were local drone pilots, including Drone Racing League pilot Chris Spangler, also known as Phluxy. Having worked with the students over the course of several weeks, Phluxy was impressed with the progress that these new drone pilots made.

"The first week I went in, they were kind of all over the place. They couldn't really fly. Second week, there's a couple of them that got better. The third, fourth week, they're all pretty good. They're not rock stars, but they're way better than what they were in the beginning. When I first saw them, I was a little worried. … But now, I think we've got a pretty solid team."

Having a professional drone racing pilot show them the ropes gave the St. Louis Park students a boost.

"I showed the kids a couple videos, and they were pretty excited. But then when he actually came and made the rest of us look like complete amateurs like we are, he's just amazing. What he can do is truly inspiring."

St. Louis Park took home the team title, while Apple Valley's Andrew Martin won the individual crown.
about 2 years ago
273 VŪZ
16

3
Report