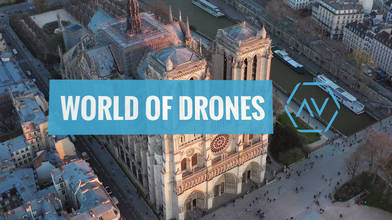 AirVūz News: World of Drones - 04/22/19
Published 04/22/2019 08:32

Tragedy struck Paris early last week when the historic Notre Dame cathedral caught fire. While the world watched images of the famous church on fire, drones were being deployed to help firefighters in Paris see the devastation from above.

Firefighters used the DJI Mavic and DJI Matrice M210 drones to evaluate the extent of the damage. Efforts to put out the fire were aided as the drones could get above the roof of the Notre Dame to show where the fire was burning most intensely. According to fire brigade spokesman Gabriel Plus, "The drones allowed us to correctly use what we had at our disposal."

Flying drones in Paris is normally very challenging due to regulations, but the drone software's geofence technology was turned off for these flights.

In other drone news, the Jacksonville Jaguars football team announced it could use drones in a very interesting way: providing shade for fans at its games.

Jaguars owner Shad Khan says the team is looking for creative and cost-effective solutions to keeping fans comfortable. One proposal is drone-powered robotic clouds. Similar technology is being planned for the 2022 World Cup in Qatar.

In Hawaii, a flower species thought to be extinct was recently rediscovered thanks to drones. In a drone video taken in the Kalalau Valley of the island of Kauai, the Hibiscadelphus woodii was seen on the side of a steep cliff that was inaccessible to humans. This plant was last seen in 2009.

We'll have another Drone Video of the Week winner tomorrow. That pilot will take home $250. Stay tuned to AirVuz.com to hear who our latest winner is.

Team AirVuz pilot Paul Nurkkala recently did an interview with SportTechie.com to share about his career as a professional drone racer. To read the full story, click the link in the description below.
about 2 years ago
327 VŪZ
16

7
Report
Description: To read Nurk's interview with SportTechie, click HERE. To see last week's episode of World of Drones, click HERE. To watch the full video of Notre Dame by Beem Flights, click HERE. SOURCES:
Alvarez, Eric. "Drone-Powered Clouds Could Shield You from the Sun at Jags Games." WTLV, 19 Apr. 2019, www.firstcoastnews.com/article/sports/nfl/jacksonville-jaguars/drone-powered-clouds-could-shield-you-from-the-sun-at-jags-games/77-3b628330-fa7c-4576-8800-2f6f1745bb05.
Booton, Jen. "Paul Nurkkala Found His Pro Racing Career Fixing a Toy Drone." SportTechie, 19 Apr. 2019, www.sporttechie.com/paul-nurkkala-drone-racing-career-programming-engineering/.

Johnson, Lauren M. "Hawaiian Flower, Thought Extinct, Rediscovered by a Drone." CNN, Cable News Network, 18 Apr. 2019, www.cnn.com/2019/04/18/us/hawaiian-flower-thought-extinct-rediscovered-trnd/index.html.