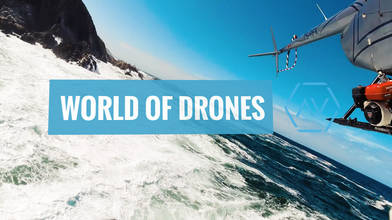 AirVūz News: World of Drones - 05/20/19
Published 05/20/2019 07:33

Recreational drone pilots in the United States have new rules to follow, thanks to the Federal Aviation Administration.

The FAA implemented new rules late last week for drone pilots who are not flying commercially under Part 107. With the new set of regulations from the FAA Reauthorization Act of 2018, hobbyist pilots must now obtain authorization to fly in controlled airspace. Previously, hobbyists could simply call an airport's control tower to inform them of any flights.

Under the new rules, air traffic control towers will no longer be able to grant access to fly in controlled airspace to hobbyist pilots. That means that hobbyists can only fly in Class G airspace below 400 feet without having to obtain authorization.

Drone manufacturer DJI introduced a new product last week that it hopes can compete with GoPro. DJI unveiled its new action camera, the Osmo Action. The waterproof camera takes stabilized 4K video at up to 60 frames per second.

While camera drone operators were hoping for a new drone from DJI, the latest product could have an appeal for FPV drone pilots. However, early opinions in the FPV community seem mixed on whether the Osmo Action can replace the GoPro Hero 7. DJI's action camera retails for $349 US.

Meatballs and pastries will soon be flying through the skies of Finland. Wing, the drone startup powered by Google parent company Alphabet, announced it will begin making drone deliveries in the capital city of Helsinki next month.

The drone will be delivering items from a gourmet grocery store and food from a local restaurant. The flights will last approximately 10 minutes and will cover around 6 miles. The Wing drone has already been making similar deliveries in Australia.

We'll have a new Drone Video of the Week winner later this week, so stay tuned to AirVuz.com to find out the winner. And keep uploading your videos for your chance to be our weekly winner, which comes with a $250 prize.

We're also introducing a new AirVuz Original later this week. Aerial Traveler is a travel-themed show that will use drone footage to give you some inspiration for your next big adventure.
over 2 years ago
282 VŪZ
20

5
Report
To watch the previous episode of World of Drones CLICK HERE. To read the FAA's changes for recreational drone pilots CLICK HERE. To learn more about our Drone Video of the Week contests CLICK HERE. SOURCES:
"FAA Highlights Changes for Recreational Drones." FAA Seal, 16 May 2019, www.faa.gov/news/updates/?newsId=93769.
"Osmo Action – Unleash Your Other Side – DJI." DJI Official, www.dji.com/osmo-action.
"Wing to Launch Early Access Air Delivery Program in Finland in June." Medium, Wing Blog, 17 May 2019, medium.com/wing-aviation/wing-to-launch-early-access-air-delivery-program-in-finland-in-june-13f8c1537ff2.
Porter, Jon. "Wing Will Start Making Drone Deliveries in Finland next Month." The Verge, The Verge, 17 May 2019, www.theverge.com/2019/5/17/18629239/alphabet-wing-drone-deliveries-finland-helsinki-vuosaari-google-air-early-access.
Wiggers, Kyle. "Alphabet's Wing Will Kick off Helsinki Drone Deliveries in Summer 2019." VentureBeat, VentureBeat, 17 May 2019, venturebeat.com/2019/05/17/alphabets-wing-will-kick-off-drone-deliveries-in-helsinki-later-this-summer/.