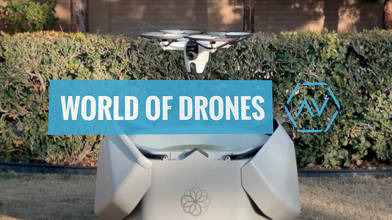 AirVūz News: World of Drones 01/13/20
Updated 01/13/2020 11:14

We begin in Florida where a Tiny Whoop helped authorities in a domestic situation that turned deadly. Police were called to the Fort Myers home by a pregnant woman who said she had been in a physical, domestic situation with a man inside the house. Upon arriving at the residence, cops then heard a single gunshot, and "immediately secured the scene and backed off." according to Sheriff Carmine Marceno.That is when the sheriffs offices call upon the use of a Tiny Whoop Drone to get inside the house, where they eventually found the suspect - Jason Grauer - dead of a self inflicted gunshot wound. According to Sheriff Marceno, the woman was safe, but is worried about the condition of her unborn child. "These are the earliest days of TW tech used by authorities." claimed Tiny Whoop creator Jesse Perkins through his facebook page. Jesse goes on to say, "It's a sensitive subject but I am proud to be involved in any small way with this department. The pilots involved are dedicated professionals and I am convinced they care about doing the right thing."

On a much lighter note… A beer brewed with a drone?!? You heard me right. Philadelphia Brewery - Dock Street Brewing - teamed up with their next door neighbor, and tech company - Exyn Technologies - who just happens to build drones. Their product that they're billing as "the first beer brewed by a drone" will be a pale ale called Swarm Intelligence. Exyn claims that "autonomous aerial robot systems" are usually used for industrial jobs such as mining, construction, and nuclear power. But for Swarm Intelligence, the tech company got its drone to hover around a smaller brewery space to help out with tasks like dropping hops into the kettle. Renata Certo-Ware who handles events and marketing at Dock Street Brewing says "It's only a matter of time before drones will be everywhere in every sector, but this is the first known collab where a drone has actively contributed to the brew process."

An Autonomous Security Drone for your Home. As CES wrapped up this past weekend, one of the most talked about pieces of technology unveiled there was "the Bee" from Technology company Sunflower Labs.The Bee is designed to patrol your property with sensors designed to mimic garden light and a central processor to bring it all together. As Part of the full Sunflower Home Awareness System, the Bee will deploy and flies on its own, with cameras on board to live-stream video. Also part of this system is the hive, of course, which is the charging station for the Bee and where all data gathered will be stored.

As you saw on last week's episode of World of Drones we're putting a little spin on our weekly contests. Every monday, we'll be showing you the week's top five videos, as well as announcing the winner of Drone Video of the Week. That winner will then be eligible for Drone Video of the Month, which will be selected by PilotViking.

In no particular order, here are the top 5 videos of the week..

Phuket, Thailand by: Moadh_Bukhash

Drone Showreel 2019 | CINEMATIC VIDEO by: Chico Franleno

Watershed | An Icelandic Tale by: videobros

Epic Iceland... That is an understatement! By: Gaui H Pic

Showreel Drone 2019 by: chill_side

And the winner is…. Epic Iceland... That is an understatement! By: Gaui H Pic

Also, new this month, we'll be doing an FPV Drone Video of the Month. If your video makes our weekly FPV pilots to watch, you'll be entered into the monthly contest, which will be selected by our own Team AirVuz Pilots Nurk FPV.
over 1 year ago
368 VŪZ
18

7
Report
To watch the previous WoD CLICK HERE

For more info on how a Tiny Whoop helped authorities in Florida CLICK HERE

To find out more on the Beer Brewing Drone CLICK HERE

If you want to know more about the Security Drone for your Home CLICK HERE

And for more info on the Drone Video of the Week and Month contests CLICK HERE

----

Shportun, Kyra. "Man dead following Whiskey Creek domestic incident" NBC2, 9, Jan. 2020, https://www.nbc-2.com/story/41544881/multiple-deputies-surround-whiskey-creek-home

Pomranz, Mike. "A Philadelphia Brewery Is Releasing a Beer Brewed with a Drone" Food and Wine, 9, Jan. 2020, https://www.foodandwine.com/news/drone-brewed-beer-exyn-dock-street-philadelphia

Etherington, Darrell. "this autonomous security drone is designed to guard your home" TechCrunch, 7, Jan. 2020, https://techcrunch.com/2020/01/07/this-autonomous-security-drone-is-designed-to-guard-your-home/