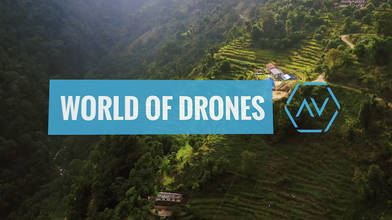 AirVūz News: World of Drones 01/27/20
Published 01/27/2020 09:24

It's time for the latest edition of "World of Drones," where we bring you the top drone news from around the world. Let's get to it.

A drone delivery service in Switzerland is set to take to the air again this week after two crashes previously shut down the program temporarily.

Swiss Post stopped its operation in August of last year after one of its drones being used to deliver medical equipment crashed near a group of children. The parachute on that drone failed to deploy, resulting in a crash of the 22-pound drone.

Swiss Post and Matternet, the US-based company operating the drones, were recommended to make four changes to their operations before taking to the skies again. Among those recommendations is that Swiss Post takes more control of the actual drone operations.

Other countries are continuing to develop drone delivery services, and Croatia recently saw a successful flight.

Late last week, Croatian Post completed its first drone delivery by using a drone to send packages. This comes less than two years after the company's managing director expressed skepticism about drone delivery.

Lawmakers in Oklahoma are proposing to regulate commercial drones on the state level.

If passed, a bill introduced by Senator Micheal Bergstrom would mean commercial drone operators would have to provide their FAA documentation, as well as their drone registration, to the state's aeronautics commission. However, hobbyist drone pilots would not have to provide anything to the state in order to fly.

Vic Bird, the director of the Oklahoma Aeronautics Commission, says this legislation is similar to what had previously been instituted in the state of North Carolina.

New York-based drone pilot and former Drone Video of the Week winner Reme Morales stopped by AirVuz headquarters in Minneapolis last week. While here, Reme told us about his goal to drone in 100 countries by the year 2023.

He's already flown his drone in 24 countries and will be adding a few more on an upcoming trip to Southeast Asia.

Reme will be giving a presentation at B&H Event Space in New York City on February 10th to talk about how to travel the world with a drone. His presentation will also be live streamed, and we've included a link for more information in the description.

It's time to announce the top five videos uploaded to AirVuz.com last week. Congratulations to these five pilots:

Here are the top five videos:

— "Wonderful Places - A Year Well Travelled 2019" by Boyanoo

—"Guizhou in 4k" by Panvelvet

—"Jackanda 4K Drone Showreel 2019" by Jackanda

—"Zákynthos" by druno

—"The Magical World of Cappadocia" by andrii_lutsyk

And this week's Drone Video of the Week is..."Wonderful Places - A Year Well Travelled 2019" by Boyanoo. Congratulations to drone pilot Boyan Ortse, whose winning video earned him $250. Boyan is also eligible to win our Drone Video of the Month contest and a $500 prize.

Be sure to stay tuned to AirVuz.com later this week for a new episode of "Aerial Traveler." In this episode, we'll take you on a drone tour of New Zealand, with the help of some of our top contributors.
over 1 year ago
811 VŪZ
18

9
Report
To watch the previous episode of 'World of Drones' CLICK HERE To learn more about our Drone Video Contests CLICK HERE For more information on Reme Morales' event at B&H in New York CLICK HERE SOURCES Denwalt, Dale. "Proposed State Law Would Regulate Commercial Drone Operators." Oklahoman.com, Oklahoman, 24 Jan. 2020, oklahoman.com/article/5653092/proposed-state-law-would-regulate-commercial-drone-operators. Gartenberg, Chaim. "Switzerland's Drone Delivery Program to Resume after Crashes." The Verge, The Verge, 23 Jan. 2020, www.theverge.com/2020/1/23/21078712/switzerland-swiss-air-matternet-hospital-drone-delivery-program-resume. Porter, Jon. "Swiss Drone Crashes near Children, Forcing Suspension of Delivery Program." The Verge, The Verge, 2 Aug. 2019, www.theverge.com/2019/8/2/20751383/swiss-drone-crash-delivery-program-suspended-matternet-post-hospital-samples. "VIDEO: Croatian Post Successfully Make First Drone Delivery ." Croatia Week, www.croatiaweek.com/video-croatian-post-successfully-make-first-drone-delivery/.