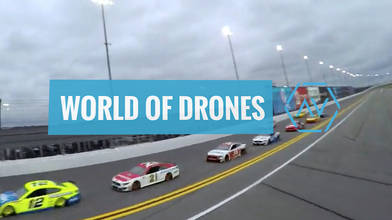 AirVūz News: World of Drones 02/17/20
AIRVŪZ STAFF NOTE :
Drone production company Beverly Hills Aerials became the first people to fly FPV drones at the Daytona 500 over the weekend. Pilot Michael Izquidero manned the FPV quad, and that footage was used in Fox's broadcast of the weekend's races.
This is the fourth year in a row drones have been used to help film the Daytona 500, but the addition of an FPV quad was a new twist to this year's race. Of course, plenty of legal hoops had to be cleared in order to fly, including a temporary flight restriction for the event.
We've previously shared how drones are being used to combat the coronavirus outbreak in China, which included flying a drone with a speaker to alert citizens to return indoors. Now authorities in China are using drones to measure people's temperature through their window.

Using a DJI Mavic 2 Enterprise Dual with a thermal camera and a speaker, a pilot flies the drone near a window and uses the speaker to alert residents to open their window. The thermal camera can then measure their temperature, which officials say is as accurate as an infrared thermometer. DJI, however, said it recommends using medical equipment — and not drones — to take official temperatures.
Speaking of drones and the coronavirus, an Australian couple stuck on a cruise ship that was quarantined due to the virus used a drone to help pass their time aboard. Dave and Jan Binskin posted updates about their situation on their Facebook page. One of those updates included a special delivery they received via drone.
The Binskins reached out to Naked Wine Club, who delivered bottles of wine via drone to the couple. The couple posted a picture of the win on Facebook, with the caption: "Thank God for drones."
An Israeli company successfully tested a laser technology that is capable of taking drone consumer drones from the sky. In a video released last week by Rafael Advanced Defense Systems, the company's drone dome can be seen in a number of scenarios in which the laser tracks and takes down drones. That includes moving targets as well as a fleet of three drones flying in close proximity.
The Drone Dome system has two options: jam the radio frequency, or destroy the drone with a laser. It's the latest example of anti-drone technology as more companies look to carve out a space in that ever-growing industry.
Every week on "World of Drones," we announce the top five videos uploaded to AirVuz.com in the last week, and we give away $250 to the top video. So in no particular order, here were this week's top videos:
—"My Places - Northern Italy Alps 4K" by Signo11
—"I will find you" by Victor Metron
—"Moscow Winter Dron Film 2020 / DJI Inspire 2 X7" by pushkinflyteam
—"Our Beautiful World - A Year in review" by Tobias Hägg
—"Frozen Carpathians" by HikeTheWorld
And our Drone Video of the Week winner and the winner of a $250 prize is...Tobias Hägg for his film "Our Beautiful World - A Year in review." Congratulations to Tobias, a former Drone Video Award nominee, whose reel from the past year stood out above the rest of the uploads from the past week.
Keep uploading your videos to AirVuz.com for your chance to win. And don't forget, content creator iDroneAerials will be selecting our Drone Video of the Month for February, which includes a cool $500 prize.
almost 2 years ago
375 VŪZ
20

8
Report
For the previous episode of World of Drones CLICK HERE To watch more FPV videos of race cars, CLICK HERE To see more of Tobias Hagg's work, CLICK HERE Sources: Djudjic, Dunja. "Watch How This Anti-Drone System Takes a DJI down with a Laser." DIY Photography, 13 Feb. 2020, www.diyphotography.net/watch-how-this-anti-drone-system-takes-a-dji-down-with-a-laser/. Golson, Jordan. "New Custom Racing Drone Will Capture Daytona 500 Action While Traveling 80 Mph." AutomotiveMap, AutomotiveMap, 15 Feb. 2020, automotivemap.com/fox-sports-nascar-drone-new-2645162519.html. Hernandez, Kristian. "Live From Daytona 500: Fox Sports Headlines 20th Consecutive Year With FPV Racing Drone, 80-Ft. Strada Crane." Sports Video Group, 2020, www.sportsvideo.org/2020/02/15/live-from-daytona-500-fox-sports-headlines-20th-consecutive-year-with-fpv-racing-drone-eighty-foot-strada-crane/. Tacopino, Joe. "Aussie Couple Ordered Wine via Drone on Quarantined Coronavirus Cruise Ship." New York Post, New York Post, 11 Feb. 2020, nypost.com/2020/02/10/aussie-couple-ordered-wine-via-drone-on-quarantined-coronavirus-cruise-ship/.