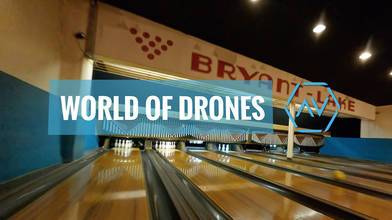 AirVūz News: World of Drones 03/15/21
Published 03/15/2021 06:47

Hi everyone, I'm Jacob Blaeser with AirVuz, and welcome back to THE World of Drones. Your weekly update for everything drone related. Let's get to it!

We'll start this off with the FPV drone video that has seemed to capture the world by storm. Last week, Jay Christensen, a former AirVuz Producer, along with his current employers Rally-studios and sky candy studios, released an FPV one-shot video from local Minneapolis Bowling Alley that drew attention from news stations around the world, as well as some of the biggest names in the Movie industry, names such as Guardians of the Galaxy Director James Gunn. I caught up with Jay, as well as Director and co-owner of Rally Studios Anthony Jaska to discuss what this last week has been like for them, how projects like this prove once again that Minneapolis is a drone and production hub, and which of the news outlets that contacted them shocked them the most. Jay also appeared on Fox 9's Jason Show, which happened to be hosted by fellow AirVuz alumn Kendall Mark, and while discussing the bowling video, they also reminisced on their time at AirVuz.

With the news of more and more major League baseball teams announcing that they'll be allowing a limited number of fans to attend games this season, we're also hearing of creative ways these teams are planning on keeping their stadiums as sanitized as possible. Just last week, the Miami Marlins announced that they'll be using FAA-approved drone technology as one of their main tactics to keep Marlins Park disinfected from pathogens including the Coronavirus. Drones have become a major tool in keeping many stadiums, fields and arenas disinfected, and with the increased amount of sports teams opening their doors back up to fans, we'll more than likely be seeing this trend continue to rise in sports and many other event venues.

Now while on the topic of creativity, and baseball, the videos eligible for this week's drone video of the Week took creativity to a whole new level, and dare I say were absolute home runs! Here in no particular order are the top 5 videos uploaded to AirVuz over the past week.

2 Countries 2 Drones by dronefate
Well let's just begin by saying, this is some seriously impressive footage taken by dronefate with his mavic air 2 and mavic mini 2. The day and night hyperlapses were excellent, the locations were amazing and it definitely had that cinematic-feel all the way to the end of the video. Great work by dronefate.

HOME KONG " Hong Kong by klkl_kit
Every once in a while you see those videos that make you just go "Wow"! This… was one of those videos. From the top down views of the busy street during the day to the crystal clear night shots of the Hong Kong Skyline… Just Wow. Outstanding production by new AirVuz contributor KLKL kit!

Istanbul Ortakoy Single Plan Night Shooting by cumhurbuyuktas
New AirVuz Creator cumhur buyuktas came in hot last week, uploading 12 videos, each one showing his creative flying and editing style. That creative style was very much evident in this night flight over Istanbul where we see views of Ortakoy and the famous Bosphorus Bridge. Great to have you a part of the AirVuz community, Cumhur.

Day 2 Night - Katowice by on.the.level
Man.. I guess it was the week of new AirVuz contributors making the Drone Video of the Week top-5 with their first upload. This video by new creator on.the.level was fantastic! Super cool effects and even better top-down shots. An all around great edit, and can't wait to see more from on.the.level!

Lofoten Drone Tour by Ryzone
Last but certainly not least, and certainly not new to AirVuz - or the Drone Video of the Week nominees - is our ol' pal Ryzone with his recap video from his time in Lofoten, Norway. Such beautiful drone views from one of the most stunning spots on the planet. Another fantastic edit by the one and only Ryzone!

Now…. drumroll please… This week's Drone Video of the Week goes to… klkl_kit with their video "Home Kong" Hong Kong.
Not only did this one stand out this week, but it could possibly be one of the most impressive Hong Kong videos on AirVuz. And there are A LOT! Congrats to kLkL kit for taking home this week's $250 dollars and the Drone Video of the Week honors. This video is now eligible for the $500 March Drone Video of the Month.

Annnnnd. On the FPV side… That was one crazy epic week of Pilots to Watch. And yes… it of course included the Bowling Alley vid. Remember, every video that makes the weekly Pilots to Watch is eligible for the monthly FPV Video of the Month!

Also, not only was Ryzone, a Drone Video of the Week nominee this week, but he was also the latest guest on AirVuz After Hours with myself and Andrew Achter. Make sure to catch that episode and any others you may have missed!
6 months ago
723 VŪZ
16

8
Report
To see the bowling alley video that has become one of the most viral drone videos of all time
CLICK HERE
To find out more about MLB's use of disinfectant drones
CLICK HERE
Associated Press. "Miami Marlins to use drone disinfectant program to clean ballpark this season" ESPN, 10 March 2021, https://www.espn.com/mlb/story/_/id/31039670/miami-marlins-use-drone-disinfectant-program-clean-ballpark-season