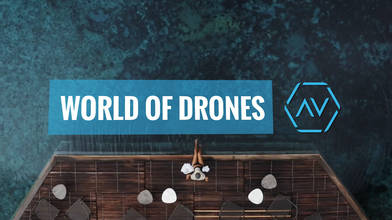 AirVūz News: World of Drones 04/19/21
Published 04/19/2021 07:07

The 'World of Drones' is your weekly news source for all things drone.

Today was a historic day for NASA. Their experimental drone called Ingenuity successfully took off and landed on Mars. The maiden flight lasted less than a minute with the robotic helicopter rising 10-feet and hovering for 30 seconds before landing. Images and data captured by the camera on-board Ingenuity were also transmitted back to Earth. NASA is planning more flights in the upcoming days testing out the drone's range on the "Red Planet."

Remember that viral FPV video from Minneapolis-based drone pilot, Jay Christensen of Rally Studios? On Friday, the 87-second one shot video titled "Right Up Our Alley" was auctioned off on the cryptocurrency Foundation App as a NFT or non-fungible token. The highest bidder and now owner of the video is @BrandonKangFilms who bought the NFT for 2.00 Ethereum (ETH) or roughly $4500. All proceeds are going to the Lake Street Council to help businesses and artists affected by the Minneapolis riots in 2020.

Drone manufacturer, DJI, may have just upstaged the launch of its brand new DJI Air 2S drone by announcing its new subsidiary called DJI Automotive. While flying cars aren't on the radar yet, DJI is partnering with car manufacturers to integrate their cutting-edge obstacle avoidance sensor software into self-driving cars. Photos leaked over the weekend from the Shanghai Auto Show, which isn't scheduled to start until today, show an electric vehicle (EV), "Powered by DJI." We're expecting more information on this to come out once the auto show officially starts.

Now it's time to go over the Top 5 drone videos uploaded to AirVuz.com last week and name one the 'Drone Video of the Week.'


"Iceland is my candy" - scientik

Longtime AirVuz contributor and filmmaker scientik is back after a few years with this incredible reel from his 2 trips to Iceland. Flying a variety of DJI drones, this film shows the stunning landscapes from glaciers to erupting volcanoes which give Iceland the nickname the "Land of Fire and Ice."


"Epic DOLOMITES - Cinematic Drone" - Ericbartolo

Filmmaker, traveler, adventurer and day dreamer, Eric Bartolo, flew his drone at what he calls, "one of the most marvelous and magical mountain ranges in the world - The Dolomites." Seeing the aerial footage from these snowy peaks in Northern Italy we'd have to agree, these 4K views are breathtaking.


"Inferno" - snorrithor

Volcano eruptions still continue in Iceland and award-winning drone pilot snorrithor is there for it. In this video shot on April 6th, he got up close to the lava flowing out of volcanic craters on the Reykjanes Peninsula and really tested the heat limits of his drone.

"Wild Tuscany" - T.E.S.T. Srls

"Leave the chaos and your cares behind" is how this travel video for Tuscany by former 'Drone Video of the Week' finalist T.E.S.T. Srls starts out. Using ground, drone and even underwater cameras, this film is an experience in and of itself.


"my 2020 trips in iran" - rezarafizadeh

Video content creator rezarafizadeh earned his second 'Drone Video of the Week' nomination with well-produced reel from his Trip in Iran in 2020. Set to an upbeat soundtrack and utilizing a variety of film and editing techniques, this film is stacked with awesome shots.


And the one being named 'Drone Video of the Week' and taking home the $250 cash prize is… "Iceland is my candy" by scientik. For winning our weekly contest, scientik's video will be featured to AirVuz's over 1 million followers on social media and it will also move on to the 'Drone Video of the Month' contest where it could win the DJI FPV combo!

Remember, every drone video uploaded during the month of April is automatically entered into our 'Drone Video of the Week' contests and from there our 'Drone Video of the Month' contest. The grand prize for April's 'Drone Video of the Month' is the DJI FPV combo which is valued at around $1300. A special thanks to our good friend and Team AirVuz FPV Pilot Nurkfpv for helping us out with this month's prize.

Watch 'World of Drones' Mondays on AirVuz.com
23 days ago
141 VŪZ
15

5
Report
Description:
Watch the previous episode of "World of Drones" CLICK HERE
Watch "Right up our Alley" on AirVuz CLICK HERE
Learn more about DJI Automotive CLICK HERE
Learn more about AirVuz's Drone Video Contests CLICK HERE
Learn about our DJI FPV Combo giveaway CLICK HERE
Sources:
Amos, Jonathan. "Nasa Successfully Flies Small Helicopter on Mars." BBC News, BBC, 19 Apr. 2021, www.bbc.com/news/science-environment-56799755.
Niepow, Dan. "Viral Drone Video of Bryant Lake Bowl to Be Sold as NFT." Twin Cities Business, 16 Apr. 2021, tcbmag.com/viral-drone-video-of-bryant-lake-bowl-to-be-auctioned-off-as-nft/.
Simmie, Scott. "DJI Autonomous EV Spotted at Shanghai Auto Show." DroneDJ, 18 Apr. 2021, dronedj.com/2021/04/18/dji-powered-autonomous-ev-to-be-unveiled-at-shanghai-auto-show/.
Wilson, Mark. "It's Official: DJI Is Moving into Self-Driving Cars." TechRadar, 16 Apr. 2021, www.techradar.com/news/the-dji-air-2s-is-old-news-dji-is-officially-moving-into-self-driving-cars.