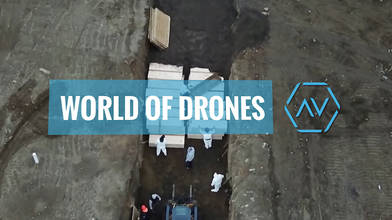 AirVūz News: World of Drones 04/20/20
AIRVŪZ STAFF NOTE :
National Geographic photographer George Steinmetz, known around the world for his decades of work in aerial photography, had a run-in with New York City police last week while using his drone to take pictures for CBS News.
Steinmetz was attempting to document New York's Hart Island, which has a long history as a mass burial site. In this instance, Steinmetz's plan was to get aerial photos of coffins of COVID-19 patients, which he posted to his popular Instagram account.
While flying from nearby City Island, Steinmetz was stopped by local law enforcement, who ultimately confiscated his drone — but not before he was able to get the memory card in his possession.
"Nobody was complaining about the noise," Steinmetz said. "I think they had heard probably from somebody at Hart Island, somebody in the health department or whatever that there was a drone and they're like, 'Stop him.' So they were out looking."
Steinmetz said the cops took his DJI Mavic 2 Pro, which he was using as a scout flight to eventually take more images with an Inspire 2.
While New York City does have regulations about taking off and landing drones within the city, Steinmetz doesn't think that was necessarily why he was cited. Rather, he thinks the images he was capturing of Hart Island played a role in his citation.
"To me, it was clearly harassment. It wasn't about the drone law," Steinmetz said. "That was kind of like the stick they were beating me with but it really wasn't about that. It was about them not wanting to see what's going on out there, which is kind of creepy."
Steinmetz has a court date in August and is currently trying to figure out how to get his Mavic 2 back in his possession.
It appears the DJI Mavic Air 2 may be released next week. Photos have leaked of the new version of one of DJI's smaller drones, and DJI itself posted a 10-second video last week teasing a potential product release on April 27.

Rumored specs of the Mavic Air 2 show that the new release boasts a better camera than the original and also has a new controller. If and when the Mavic Air 2 is released, we'll be sure to cover the announcement and take a look at the new edition of the drone.
Tiny Whoop creator Jesse Perkins announced last week that the company has launched Tiny Whoop Games Online. The simulator, a collaboration between Tiny Whoop and Rotor Rush, allows Tiny Whoop club organizers around the world to create custom courses.
The game offers several choices of quads, along with other customizable options. Perkins said Tiny Whoop GO was not originally scheduled to launch this early, but he released it ahead of schedule in order to allow people to use it during this time of social isolation.
We have a new episode of "AirVuz After Hours," featuring New Jersey drone pilots and good friends Martin Sanchez and Ty Poland. The duo discusses the inspiration behind their work, their journeys as drone pilots, and offer praise for each others' content. Find a link to the full episode in the description below.
As we do every week on "World of Drones," we bring you the top five videos uploaded to AirVuz.com over the past week. This week's top five are:
—"Italy: an ever lasting romance" by Druno
—"Visão | Aerial Reel" by Colin Skillings
—"GREECE PLACES" by PawelWorsztynowicz
—"No estamos solos - COVID Buenos Aires ARGENTINA" by Rickdebenedetto—"Novosibirsk. Siberia. Dronelapse" by Makhorov
And the winner of $250 is, "No estamos solos - COVID Buenos Aires ARGENTINA" by Rick de benedetto. This stunning two-minute video shows the empty streets of Argentina's capital city of Buenos Aires as the city deals with the COVID-19 lockdown that the rest of the world is also experiencing. For earning Drone Video of the Week honors, Rickdebenedetto is now eligible to win our April Drone Video of the Month.
over 1 year ago
792 VŪZ
21

11
Report
To hear the full interview with George Steinmetz about his flight over Hart Island CLICK HERE To see the full episode of AirVuz After Hours with Ty Poland and Martin Sanchez CLICK HERE To see last week's World of Drones CLICK HERE SOURCES: Captain, Sean. "Everything We Know about the DJI Mavic Air 2 so Far [Updated]." DroneDJ, 20 Apr. 2020, dronedj.com/2020/04/17/everything-we-know-about-dji-mavic-air-2/. Fieldstadt, Elisha, and Associated Press. "Video Shows Giant Trench Being Dug on NYC's Hart Island to Bury Coronavirus Victims." NBCNews.com, NBCUniversal News Group, 10 Apr. 2020, www.nbcnews.com/news/us-news/video-shows-giant-trench-getting-built-nyc-s-hart-island-n1181056.