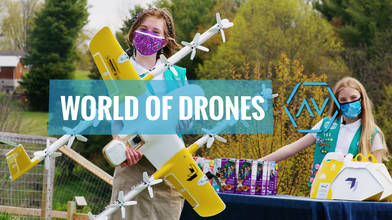 AirVūz News: World of Drones 05/03/21
Published 05/03/2021 07:41

Welcome to the 'World of Drones,' your weekly news show for everything drone related.

Need your Girl Scout cookie fix? Now you may be able to get your thin mints delivered to your door via drone. Wing, a subsidiary of Google's Alphabet is testing out commercial drone delivery of the iconic cookies in Christiansburg, Virginia. Wing decided to help out because local Girl Scout troops were having a difficult time selling cookies this year during the pandemic.

German aircraft developer, Wingcopter, has created a delivery drone that is capable of carrying 3 packages at once. Most of the companies in the race towards everyday drone delivery have designed drones that can drop off a single package before having to return to its home base, but the Wingcopter 198 can make three delivery drop-offs in a single flight. The goal is to optimize courier workflows and cut down on labor and cost. The drone has a 5.8-foot wingspan, a 13 pound payload and has a patented tilt-rotor system which means it can take off vertically like a helicopter. One flight controller would be able to monitor up to 10 drones flying globally at once. The start-up company began accepting reservations for the first 100 units last week.

Continuing the conversation about drone delivery, Kroger is the latest American supermarket launching a drone delivery pilot program. The grocery chain has partnered with Drone Express to deliver baby products, over-the-counter medications and other supplies at a store in Centerville, Ohio. Test flights will begin this week.

Autonomous aerial vehicles company, ehang, has unveiled a tree-like vertiport for its autonomous passenger drones. The large tower called "Baobab" is a landing platform for its EH216 passenger drone. Designed by Giancarlo Zema Design Group (GZDG), the Baobab has photovoltaic panels capable of generating energy and will be able to recharge the drones. It also includes a rooftop terrace with green areas and a restaurant. The tower is currently in the development stage, but ehang hopes to have hubs in China, the Maldives, the UAE and Italy.

And now it's the moment you've been waiting for, it's time to announce the Top 5 drone videos from last week and name one the 'Drone Video of the Week.'

"WILD COSTA RICA - Exploring The Alajuela Providence" - msember
Former 'Drone Video of the Week' winner msember went on an adventure to the Alajuela Province of Costa Rica. From waterfalls, wildlife, gorges, many rivers, and the mountains, there was plenty to explore and drone in this beautiful region.

"Novo Airão - Brazil's Amazon" -
franciscosantos12@hotmail.com
Returning AirVuz contributor franciscosantos12 uploaded this remarkable drone video from the Amazon rainforest in Brazil. See a bird's-eye view of what the drone pilot calls home to some of the most beautiful sunsets he's seen in his life.

"8 (eight)" - kostas Gur

International award-winning video creator, kostas Gur, received his first 'Drone Video of the Week' nomination for his aerial film "8 (eight)." Featuring hyperlapses, day and night shots, action sports and cinematic landscapes, this film celebrates his 8 year anniversary in aerial creativity.

"Genesis - Geldingadalir Eruption Iceland" - haussmannvisuals
Multiple time 'Drone Video of the Week' winner haussmannvisuals took 6 different trips to the erupting volcano on Iceland's Reykjanes peninsula in April. Flying a variety of DJI drones, he gets unbelievably close to the molten lava.

"Dolomiti" - nevinxavier
Former 'Drone Video of the Week' winner nevinxavier uploaded another stunning travel video, this one from his summer in the Italian Dolomites. The already stunning views are even more beautiful from a drone's perspective.

And the 'Drone Video of the Week' and winner of the $250 cash prize is… kostas Gur with "8 (eight)." For winning our weekly contest, this video will now be promoted to AirVuz's million plus followers on social media and will move on to the 'Drone Video of the Month' contest.

Speaking of the April 'Drone Video of the Month' contest, be sure to head to AirVuz.com on Wednesday to see who the big winner of the DJI FPV Combo will be!

On the FPV side of things, Team AirVuz FPV pilot Phluxy FPV and our own BlazeAir will be back on Thursday to announce April's 'FPV Video of the Month!' See which of the 'Pilots to Watch' from the past month will be the lucky winner of a cinewhoop or 5" quad from Drone Racing Parts.

Watch 'World of Drones' every Monday only on AirVuz.com
about 2 months ago
258 VŪZ
13

7
Report
Description:
To watch previous episodes of "World of Drones" CLICK HERE
To learn more about our Drone Video Contests CLICK HERE
To see the 'FPV Pilots to Watch' CLICK HERE
SOURCES:
Brown, Dalvin. "German Start-up Creates a Delivery Drone Capable of Toting Three Separate Packages." The Washington Post, WP Company, 28 Apr. 2021, www.washingtonpost.com/technology/2021/04/28/drone-delivery-triple-drop/.
Myers, Lynne. "Ehang Unveils Tree-like Vertiports for Its Autonomous Passenger Drones." Designboom, 30 Apr. 2021, www.designboom.com/architecture/ehang-tree-like-vertiports-autonomous-passenger-drones-05-02-2021/.
O'brien, Matt. "Girl Scout Cookies Take Flight in Virginia Drone Deliveries." AP NEWS, Associated Press, 28 Apr. 2021, apnews.com/article/health-technology-lifestyle-business-coronavirus-fdb288e4c4dc285b9eefae46ebe67201.
Ricker, Thomas. "Kroger Begins Testing Drone Deliveries for Baby Products and S'mores." The Verge, The Verge, 3 May 2021, www.theverge.com/2021/5/3/22416957/kroger-drone-express-groceries-ohio.