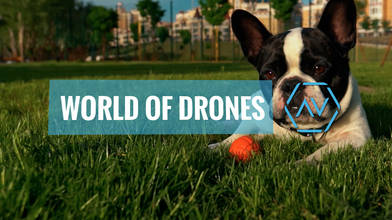 AirVūz News: World of Drones 06/01/21
Published 06/01/2021 08:36

Welcome to the 'World of Drones' your weekly news show for all things drone-related.

With all of the recent volcanic activity in Iceland over the last few months, we've seen a lot of truly spectacular drone footage of fiery lava, but this is a first... While flying his DJI FPV drone at the Fagradalsfjall volcano, filmmaker Joey Helms got a little too close during the eruption and his drone paid the ultimate price. It's never great losing a drone, but at least he has the epic footage of the last flight.

During the global pandemic last year, the number of people adopting dogs skyrocketed, but this new number of pet owners has one unlikely consequence, people not picking up after their pups. Places like the UK and Australia have noticed an increase in the amount of dog doo doo left behind in parks. So, could drones be coming to the rescue?

Ferdinand Wolf, the creative director at DJI Europe, pointed out that drones now have flight times of 30-plus minutes and have sensors that allow them to navigate through the trees in parks. With enough programming they could even be able to distinguish dog poop from other objects like rocks or trash. So while having the technology to locate the excrement is there, having the drone actually pick it up is a whole nother issue. Zack Jackowski, chief engineer for Boston Dynamics' Spot robot says its robots are already capable of helping clean up our communities, but that picking up dog feces is not a priority for them. So for now, while the technology is there for drones and robots to spot and clean up dog waste, it would be better if everyone would just pick up after their own dogs.

Looking to add another drone to your fleet? Right now you can get the Global Drone 4K Platinum edition from Mesay for under $100 with TNW Deals' Memorial Day Sale offer. This drone features a 4K camera that captures HD photos and videos that you can view straight from your phone using the mobile app. It has a flight time of 14 minutes and a remote distance of 328 feet. It also has 360-degree flip technology making it capable of some fun aerial maneuvers. The sale goes through June 2nd and we've linked it in our description.

Now it's time to go over the Top 5 drone videos uploaded to Airvuz.com last week and name one the 'Drone Video of the Week.'


"Winter in Holland 2021 | A real Dutch winter! ⛸🇳🇱" - By_ewold


Former 'Drone Video of the Month' winner, By_ewold, flew his DJI Air 2S in Holland this winter to capture what he calls the "skating virus." Beautiful frozen landscapes with people out enjoying the elements, this aerial film does a great job of capturing the spirit of the Dutch.


"Iceland continues" - AndriThor


A follow up to his last 'Drone Video of the Week' nominated aerial film, AndriThor as promised delivered, "Iceland continues." This time getting up close to an erupting volcano and also showing the wintry landscapes, this video truly shows why Iceland is called, "The Land of Fire and Ice.


"1st Drone Light Show Ever At Santa Monic Pier" - Hollywood Drone Kings


This is the first upload to Airvuz by cinematography company Hollywood Drone Kings and an impressive one at that. Capturing a drone show put on by Disney to celebrate Streaming Day on their platforms, the Hollywood Drone Kings flew their own drone to capture Baby Yoda, Captain America's Shield and other notable images come to life over the Santa Monica Pier.


"The Italian Dolomites" - steffendeback


Returning after almost 3 years, freelance filmmaker steffendeback uploaded this incredible aerial film featuring footage from the Italian Dolomites. Flying a DJI Phantom 4 Pro, the breathtaking views from this famous mountain region are hard to beat.


"4K Cinematic Short film: The Lost Girl in Desert (DJI Inspire 2 ZENMUSE X7)" - oculusfilms


Multiple-time 'Drone Video of the Week' nominee Oculusfilms does it again! This time with a cinematic short film following a girl who is lost in the Namibian desert and searching for water. Shot completely by drone, this film does a great job of telling a story, as well as showing off the scenic desert landscape.


And the 'Drone Video of the Week' and winner of the $250 cash prize is… By_ewold with "Winter in Holland 2021 | A real Dutch winter! ⛸🇳🇱." For winning our weekly contest, this video will be featured to AirVuz's over 1 million followers and will be automatically entered into our 'Drone Video of the Month' contest for May where it could win an additional $500.

Find out which 'Drone Video of the Week' winner from the month of May will be winning AirVuz's 'Drone Video of the Month' contest Wednesday, June 9th only on AirVuz.com.

The 'FPV Video of the Month' winner will also be announced next week on Thursday, June 10th. The winner which will be selected from all of the 'FPV Pilots to Watch' from May will win either a cinewhoop or 5" quad from DroneRacingParts.

Watch "World of Drones" weekly on AirVuz.com.
2 months ago
160 VŪZ
15

6
Report
Description:
To watch previous episodes of "World of Drones" CLICK HERE
To watch Joey Helms' "EPIC DRONE CRASH into ICELAND VOLCANO ERUPTION | DJI FPV 4K" CLICK HERE
To purchase the Global Drone 4K Platinum edition on sale CLICK HERE
To learn more about our Drone Video Contests CLICK HERE
SOURCES:
Haysom, Sam. "Watch This Intense Footage of a Drone Crashing into an Erupting Volcano." Mashable, Mashable, 1 June 2021, mashable.com/video/drone-crashes-erupting-iceland-volcano/.
Stack Commerce. "This 4K Drone for Videographers Is on Sale for $99 Right Now." Engadget, 25 May 2021, www.engadget.com/global-drone-4k-platnum-version-sale-145559972.html.
White, Jeremy. "The Dog Poodemic Is Here. Call in the Dung-Hunting Drones." Wired, Wired UK, 2021, www.wired.com/story/dog-poodemic-robots-drones/.