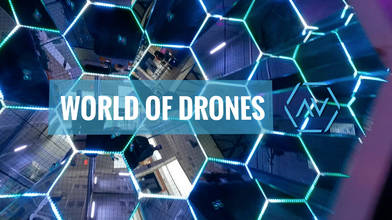 AirVūz News: World of Drones 06/07/21
Published 06/07/2021 08:58

Welcome to the 'World of Drones,' your weekly news show for all things drone related. I'm your host Angie Avestruz, let's get started.

The Youth Drone Sports Championships (YDSC) took place this past weekend right here in Minnesota at the Mall of America. Drone pilots from 8 different states between high school and college brackets competed in the first true National Championship. After racing for 3 days, Andrew Martin aka "And E" from St. Cloud State in MN was crowned the Collegiate Individual Champion. And the High School Individual Champion is Cody Anderson aka "Viper" from Apple Valley High School also in MN. Let's take a look at all the winners from the weekend. Collegiate Individual Champion - Andrew Martin aka "And E" - St. Cloud State (MN). Collegiate Individual Reserve Champion - Hunter Jensen aka "Jensen" - Lake Area Technical College (SD). High School Individual Champion - Cody Anderson aka "Viper" - Apple Valley High School (MN). High School Reserve Individual Champion - Haven Gurka aka "Vanadium" - Highland High School (AZ). Combined Team Champion - "The Empire" - Captain: Cody Anderson aka "Viper."

As the fight against Covid-19 continues, Malaysia is the latest country to implement the use of drones to help slow the spread. After another spike in cases caused the country to enforce its third national lockdown last week, Malaysia police have begun using drones to take people's temperatures. The drones are able to read body temperatures from as high as 20 meters or 65 feet in the air. If a high temperature is detected the drones will emit a red light to notify law enforcement. Other countries that have used drones to monitor temperatures are India, Italy, Oman, the US and China.

And now it's time to go over the Top 5 drone videos uploaded to AirVuz.com last week and name one the 'Drone Video of the Week.'


"Mexico City the Hypercity" - postandfly

Multiple-time 'Drone Video of the Week' nominee and winner, postandfly, has started to create video capsules of his work. Narrated by postandfly himself, this video is an amazing series of hyperlapses over Mexico City.


"The mightiest Errigal" - Peter and Loki

Former 'Drone Video of the Week' finalist, Peter and Loki, uploaded this stunning aerial film from one of the most famous mountains in Ireland, Errigal. While it is the tallest peak in County Donegal, it's most well known for its pinkish glow when the sunsets, which Peter and Loki was able to capture from the sky.


"CINEMATIC GRAN CANARIA" - Canarias Dron


This is the second upload to AirVuz for content creator Canarias Dron and his second 'Drone Video of the Week' nomination. Once again capturing Gran Canaria in Spain's Canary Islands, this aerial film will take you from day to night and the ocean to the city.


"3 years in 3 minutes reel." -

Babang Deshommes

This aerial video by Norway-based drone pilot, Babang Deshommes, is a compilation of all of his best shots from the last 3 years. Featuring aerial work from being a professional drone pilot for documentaries, music videos, and commercials, and also including some of his footage for fun, we were blown away by the shots included in this video.


"Italian blue sea" - WAKI FPV

Cruise along the waters of Italy's Ligurian Sea in this excellent first-person view (FPV) video by WAKI FPV. See the turquoise blue water from a cinematic perspective in this video that was also selected as a "FPV Pilot to Watch' last week.


And the 'Drone Video of the Week' and winner of the $250 cash prize is… Babang Deshommes with "3 years in 3 minutes reel."

For winning our weekly contest, this drone video will be featured all week to AirVuz's million social media followers and is now entered into our 'Drone Video of the Month' contest for June where it could win an additional $500.

Don't forget, the 'Drone Video of the Month' for May will be announced this Wednesday on AirVuz.com and the 'FPV Video of the Month' winner for May will be announced on Thursday.

Watch "World of Drones" every Monday on AirVuz.com for your drone and UAV news.
about 2 months ago
224 VŪZ
19

7
Report