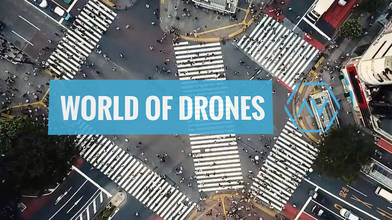 AirVūz News: World of Drones 06/17/19
Published 06/17/2019 07:09

Tyler Mason gets you caught up on everything that's happened over the last week in the World of Drones.

Hungry residents of San Diego can soon turn to drones for their food delivery. Uber Eats announced that it will roll out a food delivery pilot program in San Diego later this year.

However, the drones won't be delivering the food from the restaurant to the customer, but will instead be carrying food from the restaurant to the driver, who will complete the delivery via car.

The drone used for this mission will be custom-built. Uber worked with San Diego State University, as well as McDonalds, to develop the delivery program.

Drone pilots in Europe will all begin following the same set of regulations beginning in 2020. Last week, the European Union Aviation Safety Agency published a new set of rules that will apply to all drone pilots in the EU.

Among the rules being instituted is a regulation that states new drones must be able to be identified individually. Registration of both drone operators and the drones themselves will become mandatory. These new rules are set to take effect in June of 2020.

It's now illegal to fly a drone in Japan while under the influence of alcohol. The law, passed last week, prohibits drone pilots from operating while intoxicated. Anyone who violates the new law could serve up to a year in prison or pay a hefty fine.

Fans of the hit HBO miniseries "Chernobyl" will appreciate seeing drone footage of the area where the nuclear meltdown took place decades ago. Now that the region is open to tourists, some pilots have made the journey with their drones to document the still-abandoned city of Pripyet. You'll find a link to the full video in the description below.

Drone pilot Majestic took home $250 last week as our Drone Video of the Week winner. We'll be announcing this week's winner soon, so stay tuned to AirVuz.com.

That's all this week in the World of Drones. We'll see you next time.
over 2 years ago
366 VŪZ
26

9
Report
To watch the previous episode of World of Drones CLICK HERE To see drone footage of Chernobyl, CLICK HERE. To see Majestic's Drone Video of the Week winner, CLICK HERE. To read about the new drone regulations in the European Union, CLICK HERE.