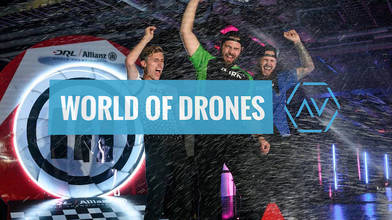 AirVūz News: World of Drones 08/12/19
Published 08/12/2019 08:43

The Drone Racing League returned on Sunday with a brand new season that featured some of the top pilots in the world. The first episode of the latest season aired on NBC and also streamed live on Twitter, with 19-year-old Alex Vanover taking the top spot in Level 1 and AirVuz team pilot Nurk FPV winning Level 2 at Miami's Hard Rock Stadium.

Actor Anders Holm of "Workaholics" fame was one of many people who took to social media to say they tuned in to watch the DRL over the weekend.

Speaking of the DRL, the league is now selling its customized racing drone for the first time ever. The Racer 4, the same drone used by the DRL pilots throughout this season, is available for the public to purchase.

Through a Kickstarter campaign, a pledge of $599 or more toward the DRL's goal of $350,000 will include a limited edition Racer 4 Street drone. However, the drones aren't estimated to be delivered until April of 2020.

Kansas City Chiefs quarterback Patrick Mahomes is known for his accuracy, and he proved it in a video released by Bleacher Report — at the expense of a drone. In a video posted last week, Mahomes hit a drone with a football as it flew across the field. After a few attempts, the 2018 MVP was able to smash the DJI Phantom drone with the football.

We here at AirVuz did something a bit similar a few years ago with former University of Minnesota punter Peter Mortell, who successfully hit a drone in the sky by punting a football to take it down.

On the subject of drones falling from the sky, a year-old video found new life over the weekend as it went viral on social media. The video showed a drone slowly descending from the sky towards a lake as the drone's pilot jumped into the water and swam to catch it just before it splashed down. Giving a fresh spin on the video was the addition of Enya's song "Only Time" as a soundtrack.

As always, we're giving away $250 each week for the best drone video uploaded to AirVuz.com. The best part? Anyone is eligible to enter. Simply upload your video to AirVuz.com and you're automatically qualified to be considered for a spot as one of our five weekly nominees.
over 2 years ago
324 VŪZ
17

10
Report
To watch the previous episode of "World of Drones" CLICK HERE. To see Drone Racing League's Kickstarter for the Racer 4, CLICK HERE. To see the full video of Peter Mortell hitting a drone by punting a football, CLICK HERE. To learn more about the Drone Video of the Week and Drone Video of the Month contests CLICK HERE.
SOURCES:
"DRL Racer4 Street." Kickstarter, www.kickstarter.com/projects/r4street/drl-racer4-street?ref=b6gmap.
Hughes, William. "Heart-Pounding Video of a Dying Drone Rescue Proves Everything Is Better with Enya." News, News, 10 Aug. 2019, news.avclub.com/heart-pounding-video-of-a-dying-drone-rescue-proves-eve-1837130898.
Report, Bleacher. "Patrick Mahomes Shatters Drone." YouTube, YouTube, 9 Aug. 2019, www.youtube.com/watch?v=lvb7vkJ-liw.