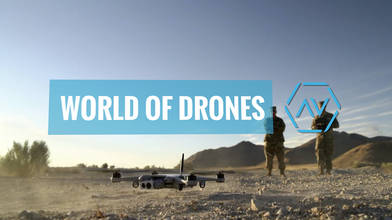 AirVūz News: World of Drones 09/08/20
Published 09/08/2020 06:25

Last week we on World of Drones, we told you about Amazon becoming the third company to officially receive their Part 135, which enables expanded use of their autonomous air delivery system to connect rural populations for improved delivery times. Just the other day, this topic was brought up to AirVuz President and CEO Mike Israel while on RT America. Here is some of what Israel said regarding what this means for the the drone industry:

Our friends at Teal Drones are at it again. Their latest creation, the Golden Eagle, will be meant for surveillance and reconnaissance missions by military and government agencies. The Golden Eagle is said to have a flight time of to 50 minutes and can fly up to 50 miles per hour. It will also be able to fly in 30 mph wind speeds and temps as cold as 32 below and hot as 120 degrees Fahrenheit. George Matus, founder of Teal Drones said "Golden Eagle is the system we've always wanted to build. It's the culmination of five years of work to bring the market a combined hardware and software platform that maintains the ethos of Teal One, but with new industrial-grade technology ready for the most demanding aerial operations."Congrats to George and the Teal Drones Team on their launch of another American-made, game changing drone.

Now, from game changing drones, to game changing drone videos, here in no particular order are the top 5 videos uploaded to Airvuz last week.

Explore Norway by uglefisk

New Zealand by Drone by Pierre.bk

ICELAND | like never seen before by Muhamad AbuShakra

Lake Baikal in Winter by Makhorov

Greece Is A Beach by fakefaketv

And the winner is... Iceland, like never seen before by Muhamad AbuShakra.

From the wonderful waterfalls to beautiful beaches, and everything in between, one of AirVuz top content creators' Muhamad AbuShakra takes us all on an aerial tour above Iceland like you've never seen before. This isn't the first time Muhamad has been selected as the Drone Video of the Week, and definitely won't be the last. So to check this Iceland video out, as well as all of the others on his AirVuz Profile Page. Congrats again to Muhamad for taking home the $250 prize, and now being eligible for the September Drone Video of the Month.

Speaking of Drone Video of the Month, congrats to Skynamic Drone for taking home August's $500 prize and crowned Drone Video of the Month. If you have not seen this reel, you must! One of the most action packed, jaw dropping films we've ever seen on AirVuz. Congrats again to Skynamic Drone and can't wait to see what's in store next.

Also… on the FPV side, congrats to all of last week's pilots to watch. Some really creative flights!

And congratulations to Tamtantrik for taking home the honors of August's FPV Video of the Month, which was selected by Nubb FPV. This flight over the Black Sea in Turkey was extraordinary, and definitely deserving. Congrats again to Tamtantrik!

Since we're on the topic of FPV, let's just keep on going…

On the last AirVuz After Hours episode, Tyler Mason and I catch up with the reining Drone Racing League Champ, Alex Vanover. We discuss everything from getting into FPV to winning drone racing's most prestigious award. Oh and most importantly, we were extremely excited to announce that Vanover will be the newest member of Team AirVuz FPV!

Now, last but definitely not least, the New York City Drone Film Festival is quickly approaching us. So head over to the New York City Drone Film Festival page on AirVuz for the most up-to-date info, and most importantly how to get tickets to the event.
about 1 year ago
132 VŪZ
16

11
Report
Wolf, Harrison. "The Race For Drone Delivery Just Got A New Leader: 3 Key Differences That Will Define Who Wins" Forbes, 5, Sep. 2020,