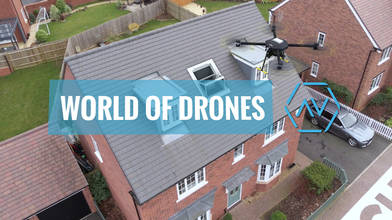 AirVūz News: World of Drones 09/21/20
Published 09/21/2020 07:35

Welcome to the "World of Drones," where we fill you in on all the drone headlines from around the globe.

Dendra Systems, an ecosystem restoration company that uses research along with cutting edge artificial intelligence and drone technology received $10 million dollars to help out in the Americas. Dendra uses custom drones to collect high resolution data that shows and analyzes vegetation, species, and erosion of every square metre of land. Once their AI software identifies an area that needs to be rehabilitated, they drop specialized seed mixtures via drone to the ground. Dendra isn't the first company to attempt to plant trees via drone, but it is more successful since their technology takes into account the entire biodiverse ecosystem of the land. The company has already carried out 38 projects in 11 countries, but with this new round of funding we could see some help with regrowing the vegetation devastated by the recent wildfires.

Drone deliveries is something we talk about often here on "World of Drones," but now an addition to your home could make delivery via drone off even more convenient. Technology-driven, start-up company, Idu Group is developing a smart delivery hatch that would be built right into the roof of a home. The skylight hatch would make it possible to receive a package even when you are not there. The London based company is currently testing "smart drop boxes" attached to buildings that communicate with the drone via wireless receiver and then send information to the recipients smart devices to alert them of the package. The team at Idu Group believes that having a drone drop a package into a home rather than landing the drone at the doorstep will allow for more deliveries in less time. These smart hatches are still in the prototype phase.

The New York City Drone Film Festival is coming up on October 24th! Tickets are on sale now, but we're going to give away a free ticket to one lucky person that participated in our social media contest over the weekend. Congratulations @Elbuhofpv! You've got a ticket not only to watch the best drone films in the world, but a festival ticket will also give you access to the "Digital Day of Drones" where we will have over 30 hours of drone related master classes.

Now it's time to announce the top 5 videos uploaded to AirVuz.com last week and which one will be the Drone Video of the Week: "Destiny 4K - Inspirational Motivational Video" by BashirAbuShakra, "Corona - Tel Aviv" by @surf.the.sky, "Lanzarote Island (Spain) | Cinematic Travel Video" by sergiosigler, "Pink lakes. Bursol" by Makhorov and "Orange Sky in Santa Cruz, California, Sept. 9th, 2020" by Umgapa Sky. And the Drone Video of the Week and winner of $250 is... BashirAbuShakra with "Destiny 4K - Inspirational Motivational Video." This former Drone Video of the Week and Drone Video of the Month winner stunned all of us with this incredible aerial compilation that features his best footage from the Alps over the past 3 year.
about 1 year ago
106 VŪZ
14

8
Report