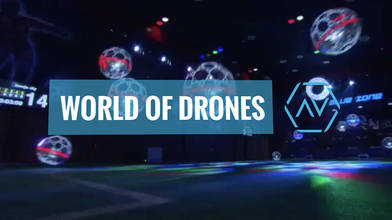 AirVūz News: World of Drones 10/05/20
Published 10/05/2020 07:59

Hello and welcome to the "World of Drones." I'm Angie Avestruz at AirVuz News here to get you caught up on all the drone headlines from around the globe.

The 6th annual New York City Drone Film Festival is quickly approaching and there is still time to get tickets! This year's all-digital festival is so much more than the show itself, which will feature the best drone films in the world. There will also be a "Digital Day of Drones" filled with over 30 hours of master classes, where you can learn how to turn your hobby into your business. Tickets are linked in the description below.

The NFL's Atlanta Falcons will be using drones to clean their stadium after games. Mercedes-Benz Stadium has partnered with

Lucid Drone Technologies, a Charlotte-based company that uses D1 disinfecting drones to sanitize large areas. The drones use electrostatic nozzles to spray medical-grade disinfectant chemicals that prevent the virus from adhering to surfaces. Beginning after the Falcon's game on October 11th, the team will use two drones to clean the 71000 seat stadium.

On a local level, here in Minnesota, US Drone Soccer just debuted at its first ever dedicated arena in the Mall of America. Twin Cities startup Hydra FPV created RdyTechGo to host its growing Youth Drone Sports Championships (YDSC) programs, which have really taken off since schools are limiting extracurriculars due to the pandemic. Last week the competitive STEM sport, drone soccer, which is an indoor team sport played with small remote-controlled quadcopters enclosed in protective plastic spheres ("drone soccer balls") that fly inside a netted cage, took flight. Drone soccer first gained popularity in South Korea, but now anyone can give it a try at the new RdyTechGo arena.

Now it's time to announce the top 5 drone videos uploaded to AirVuz.com last week:

"Shah Allah Ditta | Islamabad | Pakistan | DJI Mavic Pro 2" by oculusfilms, "Semplicemente Firenze, un patrimonio tutto Italiano" by Alta Movie srl, "Opia Media Lab Drone Reel 2020" by opia media lab, "Ergaki national park" by DiamondSky, and "From Colosseum to the sky" by mrsimone7. And the Drone Video of the Week and winner of $250 is Alta Movie srl with "Semplicemente Firenze, un patrimonio tutto Italiano," which translates to Simply Florence, an all-Italian heritage. This aerial film captures the beauty of Tuscany's capital from the sky from day to night.

Now that we're in a new month it's time to crown a new Drone Video of the Month from September. Check back on AirVuz.com later this week to see which drone film is taking home the $500 prize. We will also be announcing a new FPV Video of the Month, where one video from all of the Pilots to Watch in September will also be taking home a $500 reward. Catch "World of Drones" every Monday on AirVuz.com.
7 months ago
165 VŪZ
15

10
Report