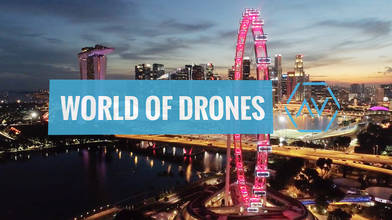 AirVūz News: World of Drones 10/07/19
Published 10/07/2019 08:59

Here's a look at the top headlines in the World of Drones.

Big news in the drone industry last week as UPS was approved by the Federal Aviation Administration to deliver medical supplies via drone. We've updated you on this story in previous editions of World of Drones, but last week's official approval from the FAA makes UPS's drone delivery service a reality.

The certification comes under Part 135 of the FAA's regulations, making it a bit different than the commercial Part 107 that many drone operators fly under. This also allows UPS's delivery drones to fly both at night and over people.

FPV pilots surely took note of the latest release from GoPro last week, as the action camera company unveiled the GoPro Hero 8. The newest camera includes several features that are of interest to FPV pilots, including Hypersmooth 2.0 stabilization.

GoPro featured footage from several FPV pilots in its promotional video of the Hero 8, including shots from former Behind the Goggles guest Fincky and Team AirVuz pilot JohnnyFPV.

A 21-year-old drone pilot appeared in court last week in Singapore after he was arrested for flying his drone near the country's National Day Parade back in August.

Tan Jin Kang was charged with flying is DJI Mavic 2 Zoom near the parade for a total of about 45 seconds. The flying of drones during that time was not allowed without a permit, which Kang did not have. He'll return to court again later this month and could face up to 12 months in prison.

Be sure to stay tuned to AirVuz.com for a brand new episode of "The Drone Dish" later this week, featuring Ohio-basd pilot Wendell Adkins of Perfect Perspectives Aerial Imaging.

And we'll also be announcing the next winner of our Drone Video of the Week contest on Tuesday. If you want your chance at the weekly $250 prize, all you have to do is upload your drone video to AirVuz.com and you're automatically entered.
about 4 years ago
294 VŪZ
29

12
Report
To watch the previous episode of "World of Drones" CLICK HERE To see previous episodes of "The Drone Dish" CLICK HERE To learn more about our Drone Video Contests CLICK HERE SOURCES: Black, Thomas, and Alan Levin. "UPS Drones Win FAA Milestone Permission to Take Off Shackles." Bloomberg.com, Bloomberg, www.bloomberg.com/news/articles/2019-10-01/ups-drones-win-milestone-faa-permission-to-take-off-shackles. Josephs, Leslie. "UPS Wins First Broad FAA Approval for Drone Delivery." CNBC, CNBC, 1 Oct. 2019, www.cnbc.com/2019/10/01/ups-wins-faa-approval-for-drone-delivery-airline.html. Ting, Wong Pei. "Man Charged with Flying Drone at Singapore Flyer during National Day Parade." TODAYonline, 2 Oct. 2019, www.todayonline.com/singapore/man-21-charged-flying-drone-singapore-flyer-during-national-day-parade.