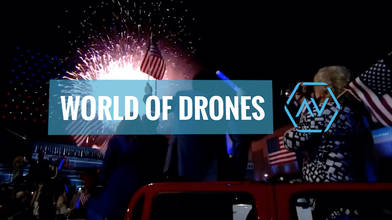 AirVūz News: World of Drones 11/09/20
AIRVŪZ STAFF NOTE :
Hi everyone, I'm Jacob Blaeser with AirVuz, and welcome back to THE World of Drones. Your weekly update for everything drone related. Let's get to it!
We'll kick things off with one of the coolest drone shows we've ever seen. On Saturday night, after President-Elect Joe Biden gave his victory speech, the sky lit up with fireworks and a drone light show that featured the Biden logo, an outline of the United States, the number 46 and the words VP-Elect Harris. The show was performed by drone and tech company Verge Aero, who were actually featured on World of Drones earlier this year with their light show in Philadelphia thanking the healthcare and essential workers. This crew really is changing the game when it comes to drone light shows.
Now, while we're in the world of high tech drone companies, our friends at Skydio have something up their sleeve as well, making some big-time additions to their Product and Engineering departments. This past week they hired former Director of Software Development at Telsa, Roy Goldman, who will now lead Skydio's Product Management Team. They also added two former Samsara higher-ups, in Ryan Reading and Mike Ross, who will now join Goldman on Skydio's Product Management crew as well. This trio will "play critical roles in realizing the company's vision for the first-of-its-kind integrated enterprise autonomy stack." the company said in response to the hiring.
From top drone companies, to top drone videos. Here, in no particular order are the top-5 videos uploaded to AirVuz last week.
Living in Nature in 4K | High Definition Aerial Drone Video Filmed In Switzerland (2020) by electriclife - Well, the title pretty much sums this one up. See the spectacular Swiss landscape all from the sky in this high definition video from electriclife.
North Italy by videobros - We know we'll always see something amazing when these guys upload, and this one proved that once again. Take a stunning flight over North Italy with the videobros.
English Harbour - Antigua by msember - Mike Sember... this guy has been traveling EVERYWHERE over the past couple of years, and thankfully for us he's been documenting it all. This video from Antigua is so AWESOME!
Spain Viewed by Drone by ViDeo Creator jP - See the stunning country of Spain from the sky in the latest edit from Video Creator JP. All filmed with the DJI Mavic Air.
Iceland - The Diamond Circle - in 4k by Gravity Williams - Spending a week in the Diamond Circle of Iceland sounds absolutely incredible! From Glaciers to beaches to waterfalls and more, this is the PERFECT flight over the land of fire and ice. There's even a clip of the Wall from Game of Thrones. Which means it's definitely Jon Snow approved!
And the winner of the Drone Video of the Week goes to...
Living in Nature in 4K | High Definition Aerial Drone Video Filmed In Switzerland (2020) by electriclife Electriclife ALWAYS has such crisp, clear, and clean footage, and this flight over Switzerland was no different. Congrats on being named Drone Video of the Week and taking home the $250 prize. This video is now eligible for the November Drone Video of the Month.
Also, it was another EPIC week of FPV pilots to watch, all who are now eligible for the November FPV video of the Month.
Speaking of the Monthly awards, last week we named the $500 October Videos of the Month, with Panvelvet taking home the Drone Video of the Month honors and Framework Films as the FPV Video of the Month winner. Congrats again to both creators!
Ok folks, I think that about covers it, we hope you enjoyed these stories, stay safe and we'll see u next week on World of Drones!
11 months ago
231 VŪZ
20

12
Report
For more on the Biden Victory Speech Drone Light Show
CLICK HERE
To learn more about Skydio's new Executive hires
CLICK HERE
Korosec, Kirsten. "Autonomous drone startup Skydio taps Tesla, Samsara veterans in enterprise push" Tech Crunch, 5, Nov. 2020, https://techcrunch.com/2020/11/05/autonomous-drone-startup-skydio-taps-tesla-samsara-veterans-in-enterprise-push/
Spires, Josh. "President-elect Biden takes to the sky with a drone light show" Drone DJ, 7, Nov. 2020, https://dronedj.com/2020/11/07/president-elect-biden-takes-to-the-sky-with-a-drone-light-show/