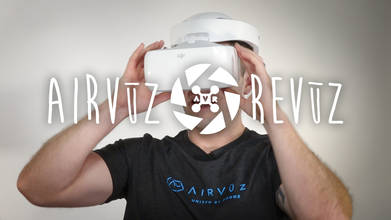 AirVūz ReVūz: DJI Goggles
over 6 years ago
6.2k VŪZ
19

11
Report
On today's episode of AirVūz ReVūz, Mike tries out the DJI Goggles. AirVūz CEO, Mike Israel, joins us at Lake Calhoun in Minneapolis to see how the goggles pair with his DJI Mavic. Check out the review to see what they had to say!

If you have a drone or drone gadget you'd like us to review, send us an email, (revuz@airvuz.com). And stay tuned to AirVūz ReVūz for future episodes!

__________________________________________________

Music Provided by Free Music Archive
Creative Commons — Attribution 3.0 Unported— CC BY 3.0 VIDEO TRANSCRIPT: Mike Welsh: Welcome back to another episode of AIRVūZ REVūZ, we've got a super cool product today. We've got the DJI goggles, which I'm super excited to try out. DJIs are always setting the bar and the standard for drones and equipment. You get the goggles themselves, you get the head mount, which is a little different than your typical FPV goggles. And you [00:00:30] also get an HDMI cord. So when you put these on, you basically have the ability to flip these up, like those cool sunglasses from the '90s. What's awesome about these, is the fully immersive experience. So basically what DJI has done well here, is completely block out any light surrounding the areas, so this allows you to be fully engaged in the video that you're seeing. The screen is 1080, it's probably the most crisp screen I've seen from goggles [00:01:00] before. It's almost like you're at the IMAX theater. Another thing is, it's got 110 milliseconds latency, so you're pretty much getting the direct video of what your drone's seeing, there's really not a lot of lag time there. It also has this awesome touch pad on the side, where you can change your camera settings and your flight modes right inside the googles. You can also put an SD card in this thing, so you can record video directly to here. That's super nice, only a couple of goggles out there have that. It's a beautiful [00:01:30] day outside, we're gonna head out to the beach and take these for a spin. It's a beautiful day out here in Minnesota, we're out here at Lake Calhoun, Mike is CEO of AIRVūZ and he's gonna test out the goggles today, and let us know his thoughts. Mike Israel: All right. Ready to rip? Mike Welsh: Let's do it. Mike Israel: And ... that's actually not working. Mike Welsh: So, back ... There we go. Okay, so ... [00:02:00] Tap fly, active track ... Okay. I believe it is configured for fixed wing mode ... Mike Israel: All right. Let's find out. Yeah, the image quality is just tremendous. Mike Welsh: How would you say the image quality compares to, say, Fat Sharks or ... ? Mike Israel: Much, much, much better. Mike Welsh: Yeah? Mike Israel: No question about it. Mike Welsh: And the screen size? Is it definitely comparable? Mike Israel: I would say it's more immersive, [00:02:30] and I got a great view of the skyline right now, which is just exceptional. So, for people who are used to Fat Shark goggles, this is a much different kind of experience, because it's more of an HD kind of a signal. There is a little bit of latency, so you wouldn't ... I don't think you could really use this for drone racing. Mike Welsh: You need instantaneous ... Mike Israel: You need ... You really can't have any lag on a ... Mike Welsh: So these goggles are more so for Mavic, DJI products ... Mike Israel: Yeah. Mike Welsh: ... not FPV racers. Mike Israel: Yeah, yeah. Mike Welsh: [00:03:00] So, you're wearing the goggles over your glasses. Mike Israel: Mm-hmm (affirmative). Mike Welsh: Is it comfortable? Mike Israel: It really is, actually. I ... With my Fat Sharks I have to ... I can't wear glasses, so I have to use the inserts that do vision traction, and it's not a perfect fit to my prescription, so it works but it's not perfect. I would say this is a better set up. And it's certainly not uncomfortable. Mike Welsh: Oh, this is very cool. I'm very much enjoying this experience, [00:03:30] it's less videography, more just ... Mike Israel: More about the flying. Mike Welsh: ... kind of sitting back and enjoying the ride. Mike Israel: Yeah. Mike Welsh: It's ... it really is. So ... Mike Israel: It's like taking an airplane ride over what I think is the nicest body of water in the Greater Minneapolis. It's a great view ... Mike Welsh: It really is. What do these get for style points, Mike? Do you think ... ? Mike Israel: I always say the guy that first pulled up at the country club in a car, everybody thought he was an idiot. They'd say, "Where's your [00:04:00] horse?" Mike Welsh: Yeah. That's right ... Mike Israel: But people get used to it. Mike Welsh: That was a fun day of flying. Thanks to Mike Israel for coming out with us and flying around a little bit. Let's head back to the studio and give our final thoughts. All right, we're back in the studio. Thanks to Mike Israel for coming out and flying around with us. We got some awesome footage, and Mike's an awesome pilot. We gave these goggles eight out of 10 props because of their comfort, because of their immersion, but we docked them a couple of points because of the set up time. Took us a little long getting it hooked up at the Mavic. Other than that, these [00:04:30] goggles are great for anyone who's just starting to fly drones, to the experts who've been doing it for years. They're perfect for that FPV experience, but they're also great for getting that perfect cinematic shot. Thanks to Maverick drone systems for sending us these goggles. Check them out at www.maverickdrone.com. If you have a product that you want us to review, send to the email here. Thanks for watching. We'll see you next time.