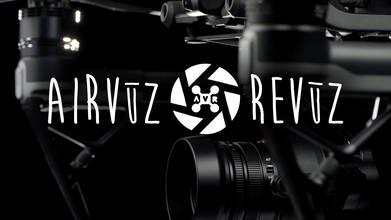 AirVūz ReVūz: DJI Inspire 2
over 6 years ago
3.3k VŪZ
22

15
Report
Welcome back to AirVūz ReVūz, a show dedicated to discovering and discussing the latest drones and drone accessories!

In this episode, Mike reviews the acclaimed Inspire 2 from DJI paired with the X5S Micro Four Thirds camera, a drone that's used regularly in your favorite films and TV shows. See what Mike has to say about this cinematic aerial tool!

If you have a drone or drone gadget you'd like us to review, send us an email, (revuz@airvuz.com). Stay tuned to AirVūz ReVūz for past and future episodes!

__________________________________________________

Music Provided by Free Music Archive
Creative Commons — Attribution 3.0 Unported— CC BY 3.0 VIDEO TRANSCRIPT: Hey guys. We have a very special show today. We have the DJI Inspire 2 in studio and we're going to run over some of its features and talk about how it compares with the previous Inspire 1. First of all, I want to talk about the case it comes with. I'm really impressed with what DJI did here because the last one had a zipper which would break on every one after about ten uses. It's much tougher, tough corners. The only problem is you can fit two sets of batteries in here. So if you're really serious about flying jobs you're going to want to get maybe a go professional case. So this is the charging port that it comes with. It's pretty cool. You can charge four batteries at once. The batteries now come in pairs which is kind of interesting but it's also nice because you get redundancy in the batteries so if one were to fail, the other one would kick in and you can use the power from that battery to get home. DJI has made this remote compatible with production trucks so you can plug directly into this HDMI and just use the live events being streamed directly to TV and around the world. So it's a really cool feature. So this is the DJI Inspire 2 itself. It's really nice, comes with magnesium, aluminum shell with carbon fiber arms and then the props are durable plastic about an inch longer than the Inspire 1. And a couple other keys features is the FPV cam on the front here. It's on a two-axis swivel so you can tilt it up and down. The X5S is a micro 4/3 camera, shoot 5.2K and 20-megapixel photos. It's also compatible with eight different lenses so you could basically shoot a movie on this thing. All right. So we got the DJI Inspire 1 in studio here. And it's funny because this thing is like an antique now. But we wanted to show you some comparisons between the two. Check out the difference between these prop locks. You can see the difference in size of the props itself. As you can tell, these props are a lot more durable, a lot bigger and the prop lock system is a lot smoother. We're going to take the X5S out into the field and compare it to the X4S and see how it stacks up. Let's go. We're back at Bryn Mawr Park to test out the Inspire 2's new features. The first thing we notice is how powerful this thing is. It handles like a champ and can go insanely fast. Next, we're comparing the image quality of the X4S with the X5S on the Inspire 2. We didn't use any color correction in any of these shots. As you can see, the X5S handles blacks a lot better than the X4S, especially when you zoom in for a closer look. The color on the X5S is also fantastic. We also noticed that the Inspire 2 has a far superior stabilizer. Even when hovering close to the ground with the drone's safety sensors enabled, we capture some incredibly smooth shots. Our overall impressions of the DJI Inspire 2 paired with the X5S were incredibly positive. We give this drone ten out of ten props because of its image quality, safety features and power. We hope this review helped you decide whether or not the Inspire 2 is right for you. Remember to send us email if you have a drone that you want us to review. Fly safe. We'll see you next time.