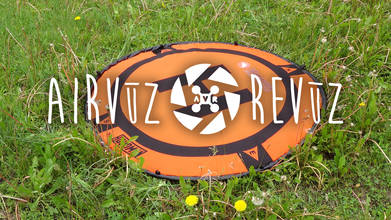 AirVūz ReVūz: Hoodman Launch Pad
over 6 years ago
5.2k VŪZ
19

8
Report
On today's episode of AirVūz ReVūz, Mike tests the Hoodman Launch Pad in some rough terrain. Are you landing in harsh conditions and worried about damaging your drone? Check out our review and see if this product is right for you!

If you have a drone or drone gadget you'd like us to review, send us an email, (revuz@airvuz.com). And stay tuned to AirVūz ReVūz for future episodes!

__________________________________________________

Music Provided by Free Music Archive
Creative Commons — Attribution 3.0 Unported— CC BY 3.0 VIDEO TRANSCRIPT: Mike Welsh: Welcome back to AirVuz ReVuz. We've got a super cool product today. We're reviewing the Hoodman Landing Pad. This is a landing pad and take off pad for drone pilots. I think it's something every drone pilot should have. Just purchased it today from Maverick Drone Systems, and I'm gonna pop it open and you'll get a peek at how this thing opens up. This comes in three foot and five foot diameters. [00:00:30] The three foot one costs 60 bucks. The five foot is 100 bucks. It's a little spendy, but it's worth it, if you're a professional drone pilot. This is really important because when you take off, you're not always on a flat asphalt road. Sometimes you're on sand, you're on grass, and this prevents you from getting grass blades up in the lens. It prevents obstacles getting caught in the gimbal when it's doing its built in test. What's really important for when you take off on the beach, that will kick [00:01:00] all sorts of sand up into your motors and other components, and it's a pain in the butt to get out. So that's what I love about this. It's really important to have something underneath your drone when you take off, and Hoodman does a great job, because they have weighted edges. So this thing weighs a good five pounds, which prevents wind from taking it away, and when you come down and land, the prop air isn't gonna make it fly away. So you know you have a secure [00:01:30] landing spot. Another nice thing about this is it tells the people around you that you've got a drone operation going on when they see the landing pad, and it's an easy way to show, "Hey, stay away from this area. This is where the drone is coming down." It's obviously really dangerous when you're landing. Someone can get really injured, so to have this here, it give you a professional work site and just shows people that you're working and you need to be left alone. So we're gonna take this out into the field. We're gonna fly our Inspire 2 [00:02:00] on this thing, and we're gonna take off on some tall grass, on some sand, see how it performs, see how it protects the drone, and show our viewers why this is so important. Here we go! We're out here at Lake Calhoun and we found a nice grassy knoll to test out the landing pad on. We're gonna set this up and fly the Inspire 2 on it, and see how it performs. Let's begin. [00:02:30] So, if I didn't have this landing pad, when the gimbal is doing it's built in test, it would get caught up in these dandelions, put stress on the gimbal, so it's really beneficial just to have a nice, clear space. So let's take this thing off. [00:03:00] Yeah! So, yeah. It's just a great way to avoid getting your props caught up in weeds and grass. Let's take it to another location. All right. We're now on the beach of Lake Calhoun. We've got a nice, sandy area. We put the landing pad down and we're gonna [00:03:30] see how well it protects the drone from the sand. All right. We're back in the studio. This thing performed very well out in the field. Definitely helped with the terrain [00:04:00] that we were on. I give this thing eight out of 10 props, because of its durability, its portability, and the visibility of things thing. I really like the bright color of this thing. You can see it from a long ways away. Secondly, it breaks down very easily, which helps with the portability, and then it's just durable. Its really well made. Very impressed with the material they used. Thanks to Maverick Drone Systems for hooking us up with this helipad. Good work, Hoodman, [00:04:30] on making this awesome product. If you've got a product or a drone you want us to review, send us an email here, and we'll see you next time.