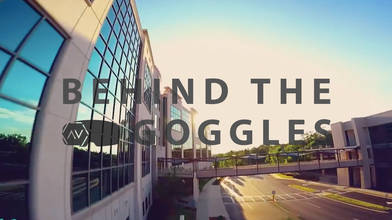 Behind The FPV Goggles: Skitzo FPV
over 6 years ago
6.0k VŪZ
37

19
Report
Drone Racing and FPV Freestyle are some of the fastest growing sports in the world. Meet the men and women behind the goggles who are changing the way we see our planet.
Atlanta Georgia is a hot-spot for epic freestyle pilots; pilots like Jonathon Davis, aka Skitzo FPV, who's sick run at last year's F3Expo launched him to fame. He brought us to the F3Expo's company headquarters to watch him glide through the glass jungle. While we were there, we asked him why he got into freestyle in the first place. He said the most exciting part about flying is the exploration aspect of it; being able to be superman or a bird, whatever you want. His recent fame is courtesy of his epic run at The Masters of Freestyle last fall, but he's not a huge fan of the spot light. However, the nerves don't get to him as much while flying, because he knows he's had plenty of years working on his hand-eye coordination thanks to Mario Brothers and plenty of other video games. His passion for gaming turned into a career when he opened his own video game company. He moved on to software development which is still his 9-5. In his free time, Jonathon was making "b-rated" horror flicks (we know, we were surprised too) and studying the stars as a passionate astronomer. The two hobbies combined in one of his horror flicks and when he needed an aerial shot he found out about recreational drones. As a self-described technology geek, he found out all he could about his new UAV. That's how he stumbled on FPV, watching crazy videos of other FPV pilots flying through the trees. The recreational drone was put on Craiglist the next day and a mini quad was purchased in its place.
Jonathon prefers flying through the abandoned buildings in his current home of Atlanta. He says he loves the colors graffiti brings to the table. Finding fellow fliers to soar around with proved to be pretty easy in the area; the main Atlanta crew remain pretty tight nit. Jonathon explained why some of those Atlanta pilots still rock the mustache (hint, hint: it's all his fault) and where he thinks he and his friends may end up in the history of the sport. Thanks for hanging out with us, Jonathon! Upload your best FPV Freestyle and Drone Racing videos to airvuz.com for a shot at flying with us on Behind the Goggles.