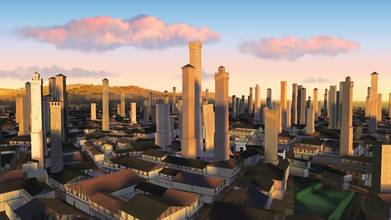 Bononia VS Bologna , Bononia - VS - Bologna, a short journey in time between the virtual and the real
AIRVŪZ STAFF NOTE :
Drone video footage and computer generated "historical" footage of the great city of Bologna are skillfully combined to make this impressive visual collage. Bologna is Italy's seventh most populous city as of 2018 and the capital of the Emilia-Romagna region in the north central part of the country. It was founded by the Etruscans, a civilization which pre-dated the Roman Republic. Among other honors, the city is home to the oldest university in the world - Bologna University, founded at the end of the 11th century.
almost 4 years ago
595 VŪZ
11

10
Report
Bononia is the Latin name of Bologna, which the city assumed after the occupation of the Roman in 189 BC, when the territory was torn from the Gauls settled in the fourth century BC. (around 358-54 BC). After the fall of the Empire, it was subject to Odoacre, to Teodorico the Great (493-526), ​​to Byzantium and finally, in 727, to the Longobards, for which it constituted mainly a military center. In 774 the city capitulated in front of Charlemagne, who gave it to Pope Adrian I. Repopulated in the tenth century, Bologna began to nurture municipal aspirations, which he managed to assert at the death of Matilde di Canossa, in 1115, obtaining the following year a series of jurisdictional and economic concessions from the emperor Henry V. In 1088 the foundation of what is recognized as the first university in the Western world (the Studium) is conventionally established. Among the first teachers there were the jurists Pepone, Accursio and Irnerio, who made the school of jurisprudence in Bologna famous all over Europe. The municipality took part in the fight against the Barbarossa, which ended with the peace of Constance in 1183, after which it experienced a strong expansion, also building (period of tower-houses): it was one of the main centers of commercial exchange thanks to an advanced system of channels that allowed the transit of large quantities of goods and provided the energy needed to power numerous industrial mills. At the end of the thirteenth century it had 50,000, perhaps 60,000 inhabitants.